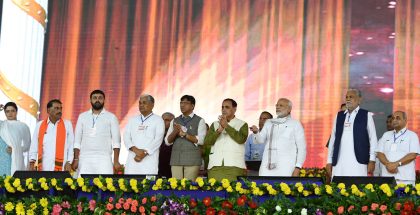 Junagadh: Prime Minister Narendra Modi today said his government wants to set up a medical college and hospital in every district of the country and plans to have 1.5 lakh "wellness centres" to serve rural areas.
"The country's health sector has undergone a major overhaul in the last few years with various schemes introduced by the Central government," Modi said, after inaugurating a 300-bed Gujarat Medical and Education Research Society Hospital at Junagadh.
"We have already announced (in this year's budget) that we will have one big hospital with an affiliated medical college for every three parliamentary constituencies. Our aim is to have a big hospital and medical college per parliamentary constituency, and then we will take it to each district," Modi said.
"In Gujarat (as the then chief minister), I had started the work of setting up a big hospital and affiliated medical college in each district, which is now nearing completion," the Prime Minister said. He said that these are not only helping patients, but also those who want to study medicine.
Apart from the existing health centres in rural areas, the government has planned to set up 1.5 lakh "wellness centres" under the Ayushman Bharat scheme, he said.
"These wellness centres will cater to six lakh villages. One centre will be built every 10 to 12 km to offer the best health care services to the rural population," he said.
Speaking about his flagship Ayushman Bharat scheme which envisages medical insurance of Rs five lakh to 10 crore families, Modi said it would boost private sector investment in the healthcare sector in rural areas.
"It will be a win-win situation for healthcare sector as well as the patients, as the government will pay for treatment of people's ailments," Modi said.
The Union government has also started Jan Aushadhi stores, an initiative which is reducing prices of medicines, the prime minister said. It is important that the poor and the middle class gets access to affordable medicines, he added.
The Prime Minister said that the Government's emphasis on cleanliness is being universally appreciated. The emphasis on cleanliness is important because a Clean India ensures people do not suffer from diseases, he added.
The Prime Minister said that the health sector requires good doctors, and paramedical staff. We also want medical instruments to be made in India, he added, saying that the sector must also keep pace with the technological advancements globally.
1 comment(s) on Our Aim-One medical college hospital in each district: PM Modi