Over 1,000 given free treatment at Vaishno Devi hospital since its inauguration by PM in 2016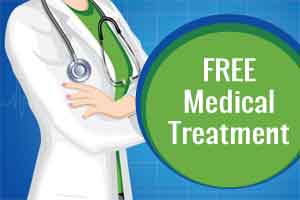 Jammu:  Over 1,000 persons, including pilgrims, were provided free medical treatment at the Shri Mata Vaishno Devi Narayana Superspeciality hospital in Reasi district of Jammu and Kashmir since its inauguration by Prime Minister Narendra Modi in 2016, officials said.
"A total of 1,026 pilgrims and villagers who had given their land for the establishment of Shri Mata Vaishno Devi University and the Hospital, besides all those covered under the gratuitous relief scheme of the board, were provided free medical treatment amounting to Rs 3.11 crore at the hospital during April 2016-May 2018," Chief Executive officer of the Shri Mata Vaishno Devi Shrine Board Dheeraj Gupta said during a review meeting at Katra in Reasi today.
He said nine congenitally deaf children were given hearing aids after they underwent surgeries at the hospital in the past three months. The board paid over Rs 50 lakh for the implants provided to these children.
Among the 1,026 beneficiaries, 357 were pilgrims who were provided free indoor treatment at an expenditure of Rs 1.61 crore.
In the last two years, the board also provided the financial assistance of Rs 1.46 crore to 165 poor and needy patients under its 'Arogya Yojna', a scheme for providing free treatment to poor patients.
In 504 cases, the families of landowners of the four surrounding villages of Sira, Kakryal, Kotla and Sool, whose land was acquired for the establishment of the university and the hospital, were provided free OPD services valuing Rs 4.41 lakh, the CEO said.