Over 3000 Amarnath pilgrims provided medical assistance during Yatra: CRPF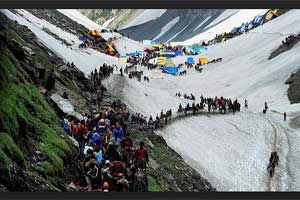 Jammu: Over 3000 pilgrims were provided medical aid during the recently concluded Amarnath yatra in south Kashmir Himalayas, Central Reserve Police Force (CRPF) said.
A medical camp established by the 54th battalion at Manigam along the Baltal route provided medical treatment to 3138 persons including 512 women during the 40-day yatra, which concluded on 7 August, the CRPF said in a statement here.
It said that the pilgrims treated by a team of senior doctors of the force also included accident victims.
"On July 2nd, some yatris belonging to Gurdaspur in Punjab met with an accident at Sumbal and all of them were given free of cost medical treatment for two days at Manigam hospital and were safely sent back to their destination with all necessary assistance," the statement said.
It added that on July 9, a bus from Ahmedabad rolled down near Gund and the force arranged the stay of 38 pilgrims, providing all basic amenities, for one week at the Manigam base camp and also arranged transportation for their return journey.
On June 29, Constable Ramesh Kumar of 181 Battalion, deployed in Baltal, saw two pilgrims, on horses, crossing a make-shift narrow wooden foot bridge which did not seem to be safe.
"He immediately shouted out to the pilgrims to be cautious but they could not listen to it due to the noise of water current. Suddenly, both horses lost balance and the pilgrims fell into the glacier stream," the statement said adding that Kumar reacted quickly and pulled them out safely.
In another instance, jawans saved the occupants of a car that had met with an accident and fallen into a gorge.
On July 19, a yatra bus from Andhra Pradesh carrying 11 pilgrims including four women arrived at pilgrim camp, Rangamore and informed Sub-Inspector Ramanand Yadav of 54 Battalion that the person who was heading the group, namely A Yashu Ratnam, lost his bag at Lal Chowk in Srinagar while shopping.
The troops contributed money and made other arrangements for the pilgrim. All the yatris appreciated their noble gesture and expressed their sincere gratitude to CRPF, the statement said.