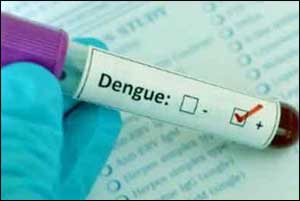 New Delhi: A multi-centric cross-sectional study spanning five different geographical regions, has been initiated by the Centre to estimate the seroprevalence of dengue virus infection in the country, the government said.
Union Health Minister J P Nadda in a written reply to the Lok Sabha has said that the study is being coordinated by the Indian Council of Medical Research-National Institute of Epidemiology, Chennai.
"A multi-centric study has been initiated to estimate the seroprevalence of dengue virus infection in India with the main objective to establish age-specific seroprevalence of dengue virus infection in different geographic regions of states.
"This in turn, will enable the government to take a policy decision on introduction of dengue vaccine into the country," Nadda said.
Three states would be selected in each region by simple random sampling, in three different age groups: 5-8 years, 9- 17 years, and 18-45 years.
"A total of 10,000 samples will be collected from all age groups and will be tested for dengue IgG antibodies," Nadda said.
The five participating regions are: Maharashtra, Madhya Pradesh, Rajasthan; Punjab, Delhi, Uttar Pradsh; Tamil Nadu, Telangana, Karnataka; Bihar, West Bengal, Odisha; and, Assam, Meghalaya and Dibrugarh.
As per the government data shared in the reply by the government, 1,50,482 dengue cases were recorded across the country this year till November 30, with 225 deaths reported due to it.
The cases of dengue reported in last three years are as follows: 40,571 (2014), 99,913 (2015) and 1,29,166 (2016), according to the government.
Union Minister of State for Health and Family Welfare Ashwini Kumar Choubey in another reply said, dengue and chikungunya cases have increased in the last few years.
"This is due to involvement of newer districts and better diagnostic surveillance with establishment of sentinel laboratories across the country," he said.
According to the data shared in his reply, 7,47,028 cases of malaria were recorded this year across the country till October, while 98 people succumbed to it.
Total number of chikungunya cases recorded this year stood at 58,335 till November 30.
As many as 1,987 cases of Japanese Encephalitis (JE) were recorded till December 3 across the country while 226 people died due to it, it said.
1 comment(s) on Pan-India dengue epidemiology study initiated: Health minister