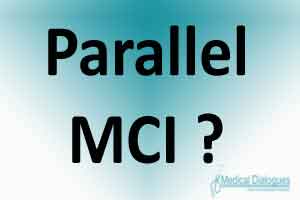 It seems like MCI has a tough competition……
A commission by the name of Bio-Chemic Education Grant Commission has been revealed to be in existence for the past seven years, giving accreditation to doctors and medical colleges, to run affiliate courses in a course of "BIO CHEMICS" in the medical sector. The so-called commission is Based in West Bengal's Nadia district, which a news report in HT finds to be fooling thousands of aspirants and the entire medical sector since its inception 7 years ago.
In an expose that has rocked the medical sector of the country, HT has done an expose' questioning the very existence of  Bio-Chemic Education Grant Commission (BEGC), a commission that claims to have been established under the Indian Bio-Chemic Act 2009. Only, it has been found that there is no such act in existence.
Under the provisions of the so-called act, the so called  "Commission" appears to be a government body, just like the MCI offering accreditation to medical colleges and gives licences to doctors to practice medicine in the field of "bio-chemics." Moreover, based on this, this  "statutory body" has been deceiving colleges and doctors across India for seven years now.
It is reported that the " Commission" primarily runs through its  "medical court" that provides accreditation to doctors and educational institutions to run "Biochemic" courses. Its centralised processing cell has even sent notices to doctors in Kerala, asking them to pay Rs 3,000 each for getting registered with BEGC.
The commission's website lists about 24 bio-chemic colleges and a not-for-profit University of Bio-Chemic Health Sciences established in 2015 and "controlled" by BEGC.
It also gives an idea of what the commission did so far. "Nearly 1,000 students are receiving teaching and training within the affiliated colleges across India." The Patna Bio-chemic Medical College & Research Institute, one of the "accredited" colleges, said the first batch started last year with about 25 students. The course fee is Rs 1.51 lakh a year for a 4-year MBBS. The new batch is about to start.
It still remains a mystery, what a bio-chemic is .The person who HT contacted could not explain what "bio-chemic" is except that it is an "advanced medicine" form, and said there are four faculties to teach and they are MBBS doctors.
It is implied that the commission seems to  be drawing its credentials from the various newspaper articles and more importantly notifications in the Gazette of India, the official rule book of the Indian government.
On March 23, 2015, three notifications appeared in section 4 of part III of the Gazette that is meant for "miscellaneous notifications" by statutory bodies."All Indian Medical system will consult for any advice and activities to get legal permission" from the commission, one of the notifications said. Another listed 13 members of the commission. Every notification ended: "By order, Shyamal Dutta, the CEO and the President."
Through an RTI, HT asked the government press in New Delhi, how the notifications were published without verification. "The genuineness of the notification is not verified by the press," it replied. The department of publication did not reply. The commission has also been reported by the media including top national dailies, with its reported Press-conferences, inaugurations, and events some of which feature minister of science and technology Jitendra Singh along with Dutta. Pictures of these are flashed all over the Official Website of this so-called council.
The CEO has not responded to HT's email queries. On why the commission was located in Nadia, an official of BEGC replied: "It is because our CEO's house is here."
 The above article is based on a story that appeared in HT. To know more about BEGC, click on this link- http://www.begc.in/nw/index.php
1 comment(s) on Parallel MCI giving parallel MBBS degrees!