Pb health minister launches MR vaccination campaign from Faridkot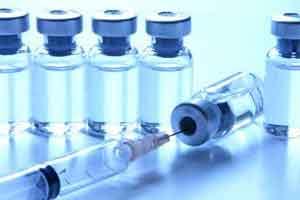 Chandigarh: Punjab Health Minister Brahm Mahindra today launched a state-level Measles  Rubella(MR) Vaccination campaign from Faridkot district, under which, all children between nine months and less than 15 years will be vaccinated regardless of previous Vaccinations
At a rally after launching the MR Vaccination campaign, he said, "We have planned to vaccinate 73,50,382 children in 58,783 sessions, with the help of 5,200 teams. For this mammoth exercise, we have trained 56,974 Health staff and volunteers, and 48,983 teachers."
In case any child is left out during this 
Vaccination 
campaign, then ASHA workers and ANMs as a follow up, would go from home to home and ensure 
Vaccination 
of left out children, the 
Health 
Minister 
said.
Terming it "very unfortunate", he said the Health and Family Welfare Department has launched a Massive Social media campaign to make people aware about the importance of MR Vaccination
The Minister said all civil surgeons and Representative of the Indian Medical Association have been roped in to counter this false propaganda.
Assuring everyone that MR Vaccines absolutely safe like others vaccines, Mohindra said that more than eight crore children have been vaccinated for MR in 14 to 15 states of the country and no side effect was reported.
The Health Minister appealed to parents to get their children vaccinated during this campaign.