ECMO saves life of a one-day-old baby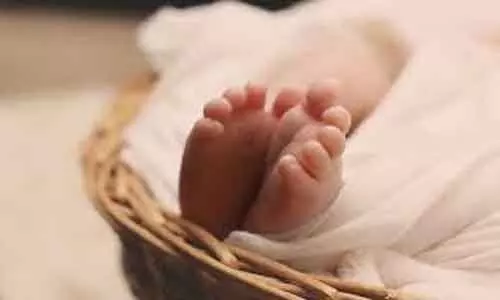 Hyderabad, 20th January, 2021: One-day-old baby was saved by KIMS doctors by treating her with ECMO support. This is one of the rare cases where only one day old baby was put on ECMO. Consultant Paediatric Intensivist Dr. V. Nanda Kishore explained the entire situation and details of the case. Mrs Sravanthi From Uppal, Hyderabad had a normal pregnancy and delivered the baby by emergency Caesarian section because of meconium stained liquor. The first stool of the baby is called meconium and babies generally do not pass stool in the womb. Sometimes they may pass stool in the womb and rarely aspirate that into the lungs around delivery time. This usually causes breathing difficulty, sometimes severe enough to necessitate high-level medical intervention.

Baby was born in good condition but soon developed breathing difficulty for which the baby was admitted to the intensive care unit. Baby was put on a breathing machine (ventilator) to help with breathing. In addition to meconium aspiration baby also developed high blood pressure in the lung (pulmonary hypertension), which is commonly associated with meconium aspiration. A special medication and gas (inhaled Nitric oxide) were added to help with increased blood pressure in the lungs. Even with such a support baby condition continued to get worse. At this point Baby was referred to KIMS Hospitals for ECMO support.
Baby was put on ECMO immediately and the condition was stabilized. It was initiated by small operative procedure by a pediatric cardiac surgeon. Baby needed ECMO support for 5 days and intensive care stay for another 5 days. Baby was finally discharged home in healthy condition and on mother's breast feeds.
In such a situation ECMO helps by taking over lung function (taking up oxygen and removal of carbon dioxide) and giving rest and time for the lungs to recover. It does this by diverting the blood, which is going to lungs through the artificial lung (oxygenator) located outside the body in the ECMO circuit. ECMO is usually offered in conditions of either heart or lung function is critically compromised and not able to support with conventionally available treatment modes. It is done in all age groups and has become more popular with H1N1 and Covid-19.
ECMO is widely accepted and available in western countries for the last 40 years and has become available in India since 10 years. Still it is not utilized to the extent needed. One of the important factors is lack of awareness within the healthcare community. Because of our persistent efforts to increase the awareness within twin cities this baby was sent to us at the right time.
This is the 2nd ECMO in newborn babies we did and KIMS Hospitals is the only hospital that has done ECMO in newborn babies in twin telugu states. KIMS Hospitals is the first hospital to start ECMO services in 2012 and have done the highest so far in telugu states.