Avoiding screen time may help concussion recovery in children:Study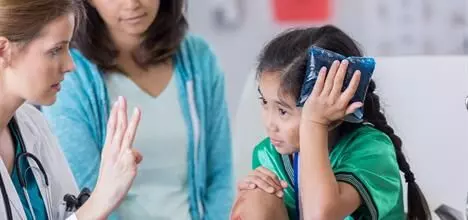 Children and adolescents aged 10 to 19 years have the highest incidence of concussion and this age group is most vulnerable to high electronic screen use. The International Concussion in Sports Group and the Centers for Disease Control and Prevention recommend a period of complete cognitive and physical rest for the first 24 to 48 hours after sustaining a concussion followed by a structured return to activity.
Theodore et al conducted studied the association between screen use and recovery from concussion symptoms.This is the first randomised controlled trial to study such association finding of which are published in JAMA pediatrics.
In this study , participants were randomized to 2 intervention groups; 1 group was permitted to engage in screen time during the first 48 hours of recovery, and 1 group was asked to abstain from screen time during the same period. The primary outcome measure was the number of days until functional resolution of concussive symptoms, which was defined as the first day with a total score of 3 points or lower on the Post-Concussive Symptom Scale (PCSS). Secondary outcomes included the amount of screen and sleep time during the intervention period, the day of return to school or work after the intervention period and the day of return to exercise after the intervention period. All participants were advised to avoid attending work or school or completing remote work for the first 48 hours.
A total of 125 enrolled patients were included in final analysis with mean age of study being 17 years. The screen time permitted group included 66 participants and the screen time abstinent group included 59 participants. .Most concussions occurred during sports activities (62 total participants [49.6%]). The screen time permitted group had a significantly longer median time until recovery compared with the screen time abstinent group (8.0 days vs 3.5 days , respectively; P = .03). Screen time use was high among the permitted group as compared to the abstinent group(median, 630 minutes vs 130 minutes repectively). No difference in sleep duration was observed in both the groups. The median time to return to work or school was 7.0 days in the screen time permitted group and 6.0 days in the screen time abstinent group.
Researchers suspect that increased eye strain and photic stimulation with screen time use may worsen concussive symptoms. Previous studies have suggested that early return to cognitive and physical activity may be beneficial to concussion recovery but replacing activity with screen time could adversely affect recovery.
Authors conclude-"This randomized clinical trial found that abstaining from screen time in the acute period after concussion may be associated with a shorter duration of symptoms, which supports clinical recommendations to limit screen time in the acute period after concussion."
Source: JAMA pediatrics.
Source : JAMA pediatrics