CYSTIC FIBROSIS : Challenges in diagnosis and treatment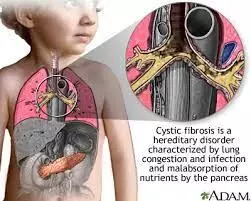 Cystic fibrosis is an inherited multisystem disorder of children and adults and is the most common life-limiting recessive genetic trait among whites. While life expectancy for people with CF has increased substantially over recent decades with advances in diagnosis and treatment, it is still associated with death in infants and young children in many regions, particularly in low...
Cystic fibrosis is an inherited multisystem disorder of children and adults and is the most common life-limiting recessive genetic trait among whites. While life expectancy for people with CF has increased substantially over recent decades with advances in diagnosis and treatment, it is still associated with death in infants and young children in many regions, particularly in low and middle-income countries (LMIC) . In such countries with low health expenditure per capita, patients with CF experience more deprivation-related health disparities than all other individuals in the population since the limited resources are directed towards common conditions, such as community acquired pneumonia, tuberculosis and Human Immunodeficiency virus (HIV) infections.
In this review from four countries, authors describe the status of CF diagnosis and care in different LMIC settings-Brazil, South Africa, Israel and India and highlight challenges and opportunities for CF practitioners in LMIC to improve CF care and outcomes.
Epidemiology:
The varied incidence of CF in LMIC is dependent on population ethnicity and origins. The precise burden of children with CF in India is not well studied. Studies of CF prevalence in an Indian migrant population in UK and US suggest 1:10,000 and 1:40,000, respectively. In Brazil it is estimated to be between 1:7500 and 1:15,000 live births. The estimated incidence in live births in South Africa (SA) ranges between 1 in 3000 in Caucasians, 1 in 10,300 in mixed races and 1 in 14,000 in black South Africans.
Diagnosis:
The diagnosis of typical CF in non-screened populations is relatively straight forward, and is based on clinical symptoms and a positive sweat chloride test. In LMIC the diagnosis is often delayed as they most not have typical clinical symptoms and may be confounded by other common conditions such as malnutrition,TB,HIV.
CF-Newborn screening(CF-NBS):
With newborn screening diagnosis is often made prior to obvious clinical manifestations such as failure to thrive and chronic cough. CF-NBS is now widespread in high income countries but it has not been consistently implemented in LMIC. Data from the Brazilian CF Registry shows that CF diagnosis occurs significantly earlier by NBS when compared to clinical diagnosis. Since 2015 CF-NBS screening has been implemented in Argentina but the coverage is not high. There is no CF-NBS in India and Africa. Immunoreactive trypsinogen test is available few laboratories which may be performed in selected cases by obstetricians or neonatologists.
Sweat Chloride testing:
Access to reliable sweat testing equipment or expertise is a challenge in many LMICs and an important reason for delayed or misdiagnosis of CF in these settings. The use of sweat conductivity testing instead of colorimetric determination of chloride levels in the sweat, could be more simple and achievable, facilitating its use in more remote areas. In LMIC , due to underlying malnutrition and dehydration there is a high incidence of false positive tests.
CFTR genotyping:
Distribution of CFTR variants is heterogeneous worldwide with well characterized frequency and distribution of alleles in some populations. In African populations, 3120 + 1G > A is the most prevalent variant. In India, the CF genotype is very heterogeneous and F508del variant frequency varies between 19% and 34%.
Specialised CF centers:
In recent decades, the clinical outcome and survival of patients with CF has dramatically improved in most countries which may be attributed to a multidisciplinary approach by developing treatments that slowed the progression of lung disease through augmenting airway clearance, aggressively treating infections, and correcting nutritional deficits. There are Cystic Fibrosis centers with trained staff(doctors,nurses and physiotherapist) in managing the morbidities associated with CF and better outcome was seen those patients visiting CF centers.
Treatment:
Initial efforts after diagnosis should be intensive and should include baseline assessment, clearing of pulmonary involvement and education of patient and parents. Basic treatment being expensive, access to the treatment is not universal in LMIC, and sometimes unevenly distributed within countries as observed in South America and South Africa. In India most of medications are to be bought by patient hence lower cost medications such as hypertonic saline and azithromycin are being widely used.
Antibiotic therapy:
Pseudomonas aeruginosa infection is the leading cause of morbidity and mortality in CF patients. One of the best strategy to improve quality of life is to prevent pseudomonas infection by avoidance of cross-infection and early eradication therapy. Standard therapy includes inhalation of anti-pseudomonal antibiotics (tobramycin,gentamycin).
Chest physiotherapy:
Chest physiotherapy is a key component in management of CF lung disease. Apart from postural drainage, use of vibrating positive end-pressure plastic devices along with aerobic exercises may improve the quality of life.
CFTR modulators:
A major breakthrough in CF treatment followed the scientific discovery of new chemical compounds known as CFTR modulators which target specific CFTR defects. Ivacaftor was the first approved FDA drug in high income countries. Unfortunately, most patients in LMIC are not benefiting from these breakthrough treatments due to the prohibitive cost of these drugs.
Adults with advanced disease:
Early diagnosis and targeted treatment in the early phase of disease had led to increased survuival of Cf patients in the past decade. Adult CF patients also demand more complexity and costs to the treatment, since they are frequently colonized by multidrug resistant bacteria, require more hospital admissions, and may need supplemental oxygen or non-invasive ventilation at home. These resources may be limited in LMIC, as well as access to lung transplant.
Outcome and treatment in LMIC:
CF registries have been established for many years in high income countries but there is little data on the epidemiology and outcomes of CF in LMIC which contain diverse populations. Brazil has been maintaining CF registry from 10 years which a powerful tool in exposing the reality into perspective. . Other LMICs to recently establish a CF registry are in South Africa, and there are reports of similar initiatives in India, Colombia, Chile and Argentina as well. Data from these registries will provide valuable insight and direction for strategies to improve CF outcomes in LMIC.
Conclusion:
The number of CF patients is underestimated in LMIC due to poor registry of such cases. In addition, these countries face significant challenges to promote CF diagnosis and improvements to CF care due to financial constraints and a significant burden of other diseases. CF therapies and care in LMIC need to be modified and adapted to available resources of these countries. Support from international CF organizations can promote significant advances in diagnosis and treatment. Preventive and management strategies must be both cost-effective and culturally appropriate for patients with CF from low-income countries.
Authors conclude-"The global CF community could promote initiatives to minimize the growing gap in access to new CF therapies between high income and LMIC."
Source: Pediatric respiratory reviews.
Source : Pediatric respiratory reviews