No benefit of antibiotics in suspected childhood Pneumonia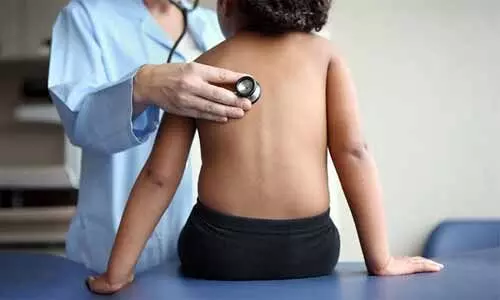 Children with suspected community-acquired pneumonia and discharged home from the emergency department (ED) experience the same rate of treatment failure whether given antibiotics or not. The study has been published in Journal Paediatrics.
Antibiotic therapy is often prescribed for suspected community-acquired pneumonia (CAP) in children despite a lack of knowledge of causative pathogen. The researchers conducted the study to investigate the association between antibiotic prescription and treatment failure in children with suspected CAP who are discharged from the hospital emergency department (ED).
Researchers performed a prospective cohort study of children (ages 3 months–18 years) who were discharged from the ED with suspected CAP. They evaluated some 300 children (median age, 3 years), half of whom received antibiotics. The primary exposure was antibiotic receipt or prescription. The primary outcome was treatment failure (ie, hospitalization after being discharged from the ED, return visit with antibiotic initiation or change, or antibiotic change within 7–15 days from the ED visit). The secondary outcomes included parent-reported quality-of-life measures. Propensity score matching was used to limit potential bias attributable to treatment selection between children who did and did not receive an antibiotic prescription.
They matched antibiotic recipients with nonrecipients, and their treatment outcomes were compared. The rate of treatment failure was identical (8.8%) in both groups. Failure was defined as any of the following: hospitalization for pneumonia within 30 days, a return visit to the ED with a change in antibiotic, or a parent-reported change in antibiotic by a physician. In addition to this, parents' ratings of their children's quality of life showed no statistical differences between groups.
Given that previous studies have reported widespread use of antibiotics in these patients, the authors conclude that "opportunities exist to safely manage more children with suspected [pneumonia] treated as outpatients without antibiotics. Among children with suspected CAP, the outcomes were not statistically different between those who did and did not receive an antibiotic prescription.
For further reference log on to :
Antibiotic Use and Outcomes in Children in the Emergency Department With Suspected Pneumonia
Source : Paediatrics