Oral dextrose gel may reduce risk of sudden fall of blood sugar in neonates: Study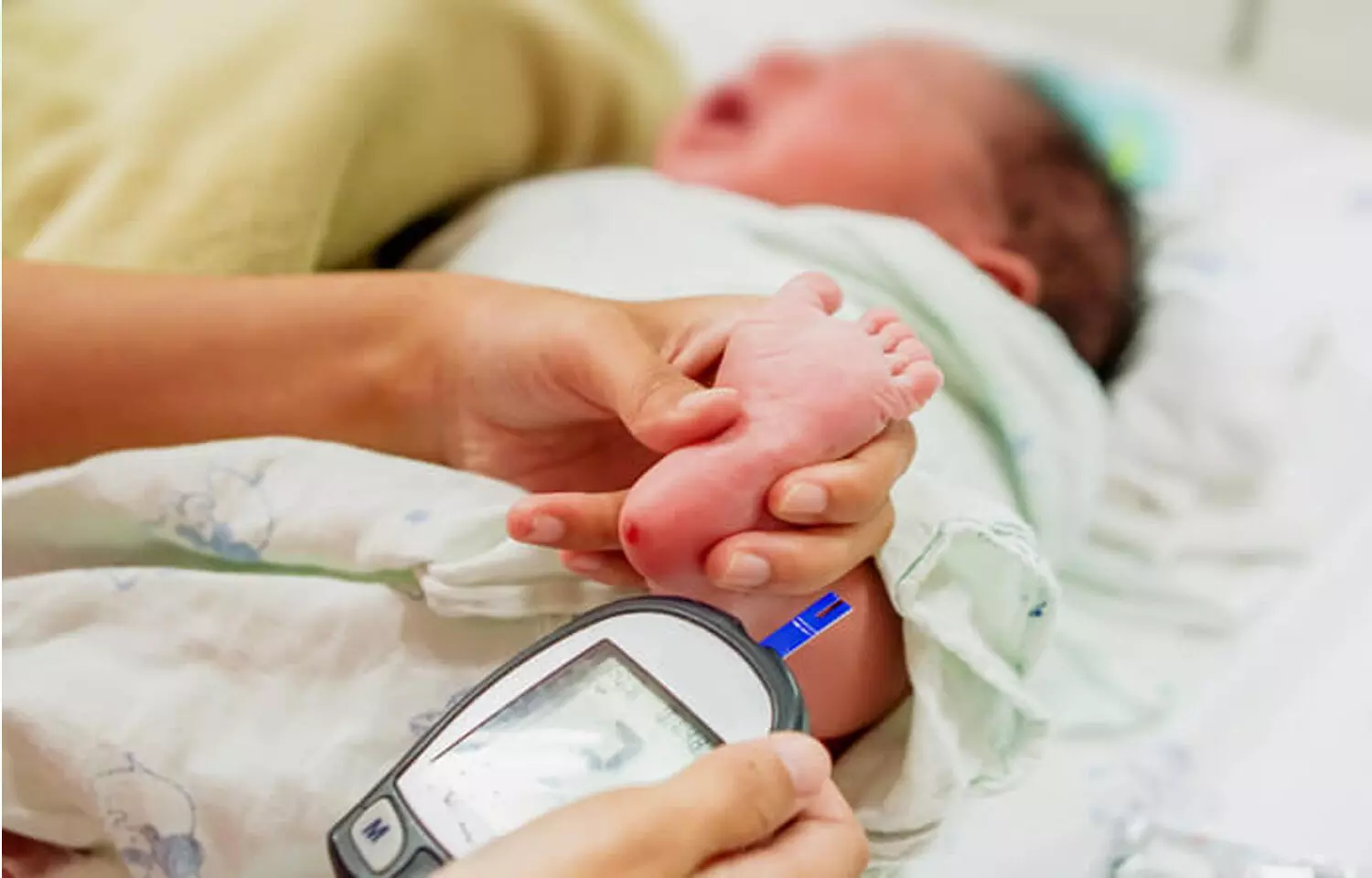 New Zealand: Oral dextrose gel reduced hypoglycemia but did not reduce NICU admission in babies at risk of hypoglycemia, finds a recent study in the journal PLOS Medicine.Dextrose (sugar) gel rubbed inside the baby's cheek is widely used to treat low blood sugar, and is noninvasive, inexpensive, and safe.However, the researchers added that long-term follow-up is required for determining the clinical utility of this strategy.
Neonatal hypoglycemia or episode of sudden fall of blood sugar in neonatesis common affecting up to 15% of newborn babies and can cause brain injury, death. Babies born at hypoglycemia risk have an increased risk of developmental delay in later life.
In addition to feeding, first-line treatment with oral 40% dextrose gel is safe and effective, If hypoglycemia persists, intravenous dextrose is recommended. This requires admission to the neonatal intensive care unit (NICU). A previous dose-finding study found that 40% dextrose gel given prophylactically to babies at risk reduces the incidence of neonatal hypoglycemia but its clinical utility remains uncertain.
Jane E. Harding, University of Auckland, Auckland, New Zealand, and colleagues aimed to assess whether prophylactic dextrose gel given to babies at risk of neonatal hypoglycemia reduces admission to NICU.
For the purpose, the researchers conducted a multicenter, double-blinded, placebo-controlled randomized trial in 18 New Zealand and Australian maternity hospitals from January 2015 to May 2019. It included 2,149 babies ((48.7% girls) at risk of neonatal hypoglycemia (maternal diabetes, late preterm, or high or low birthweight) without indications for NICU admission. They were randomized to to 0.5 ml/kg buccal 40% dextrose or placebo gel at 1 hour of age.
Primary outcome was NICU admission, with power to detect a 4% absolute reduction.
Key findings of the study include:
NICU admission occurred for 111/1,070 (10.4%) randomized to dextrose gel and 100/1,063 (9.4%) randomized to placebo (adjusted relative risk [aRR] 1.10).
Babies randomized to dextrose gel were less likely to become hypoglycemic (blood glucose < 2.6 mmol/l) (399/1,070, 37%, versus 448/1,063, 42%; aRR 0.88) although NICU admission for hypoglycemia was similar between groups (65/1,070, 6.1%, versus 48/1,063, 4.5%; aRR 1.35).
There were no differences between groups in breastfeeding at discharge from hospital (aRR 1.00), receipt of formula before discharge (aRR 0.99), and formula feeding at 6 weeks (aRR 1.01), and there was no hyperglycemia.
Most mothers (95%) would recommend the study to friends.
No adverse effects, including 2 deaths in each group, were attributable to dextrose gel.
"In this placebo-controlled randomized trial, prophylactic dextrose gel 200 mg/kg did not reduce NICU admission in babies at risk of hypoglycemia but did reduce hypoglycemia. Long-term follow-up is needed to determine the clinical utility of this strategy," wrote the authors.
The study titled, "Evaluation of oral dextrose gel for prevention of neonatal hypoglycemia (hPOD): A multicenter, double-blind randomized controlled trial," is published in the journal PLOS Medicine.
DOI: https://journals.plos.org/plosmedicine/article?id=10.1371/journal.pmed.1003411
Source : PLOS Medicine