National Deworming Day- Understanding the Rationale and significance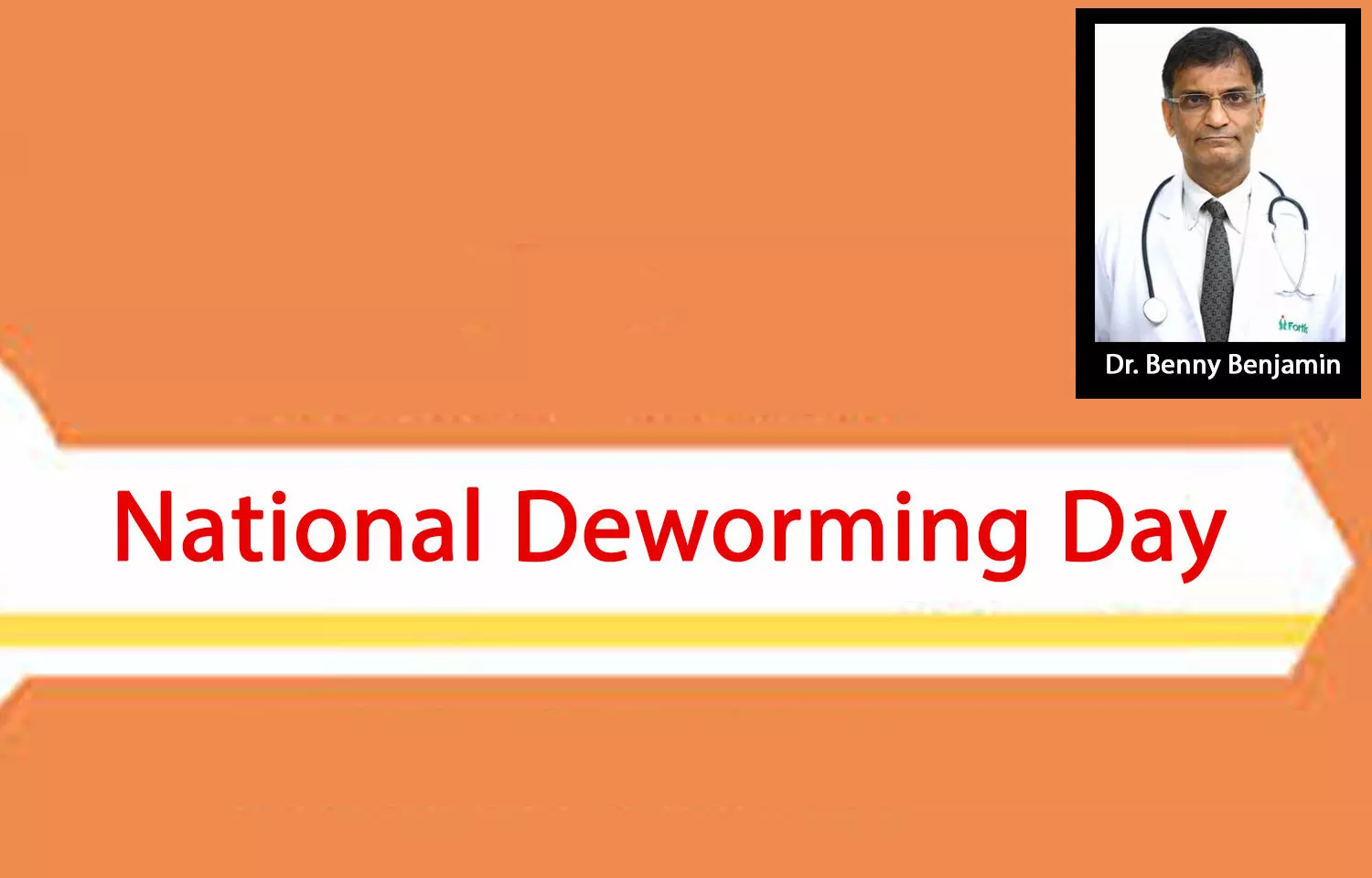 Soil transmitted helminths (STH) are intestinal nematode parasites inhabiting the small and large bowel. More than 83 crore children worldwide are estimated to bear this burden, with India contributing a significant proportion of about 28% to this total.

Nomenclature and pathophysiolgy: Quick recapitulation:.
Hookworm: (Ancylostoma dudenale, Necator Americanus)
Threadworm (Strongyloides stercoralis)
Round worm: (Ascaris Lumbricoides)
Pinworm (Enterobius vermicularis)
(Note: Tapeworms are not relevant to this discussion)
The ova of the worms are excreted in the faeces. For pinworms and round worms, the life cycle is completed by direct faeco-oral transmission of the ova through fomites such as contaminated unwashed fresh food items such as vegetables, or unwashed hands among household or school peer contacts and maturing to adult worms in the gut. For hookworms and threadworms, the larvae that hatch from the ova enter the skin of the soles when walking bare feet on contaminated soil, and reach the intestine after migrating through the body circulation, and mature into adults. Symptoms include duodenitis and iron deficiency anaemia from occult blood loss in the case of hookworms, abdominal pain and the rare case of intestinal obstruction (roundworms), blood and mucus in the stools (thread worms) and pruritus ani (pinworms).
The National Deworming Day (NDD) programme was launched by the Ministry of Health and Family Welfare (MOHFW), Govt of India (GOI), in February 2015. It is implemented by its subsidiary the National Health Mission. The designated biannual days are February 20th and August 20th. Therefore, the upcoming February 2021 programme will be its 13th iteration.
The rationale: A cost effective method of reaching a large number of children on a fixed day to reduce the disease burden of significant public health problem which takes a toll on children's health, growth and productivity.
The Programme:
A single dose of Albendazole 400mg chewable tablet is administered to the target audience of all school and preschool children aged 1 – 19 years. It is administered by health workers and teachers at all anganwadis (preschools), Govt schools, Govt-aided schools and private schools. Health education on practices like using footwear, sanitation issues such as hand washing before eating and after using the toilet, using toilets for defecation, and washing fresh produce like and vegetables before consumption are an important adjunct to the programme.
The logistics for managing such a huge exercise covering a vast area and numbers in a time limited period can be formidable. It includes sourcing the required quantity of tablets of tested quality from the generic drug manufacturers, training health care and anganwadi workers and teachers on administering the programme.
Problems gleaned from my personal practice and theoretical considerations include side effects such as adverse reaction to Albendazole such as allergic rash (extremely rare) and failure rate (6% for pinworm, 12% for roundworm, 28% for hookworm and 36% for whipworm) which should not detract from the overall benefits of the programme.
Our Responsibility: General and family practitioners, paediatricians and other health care workers dealing with children and parents should support the programme and provide appropriate counselling.
Sources referenced:
Treatment Options and Considerations for Intestinal Helminthic Infections.
National Dewormig Day on
National Deworming Day, Dr. Benny Benjamin, MD, DCh, FRCP Edin, has completed his Undergraduate Medical and Postgraduate Paediatric training and qualifications from Christian Medical College, Vellore, obtaining DCh in 1977 and MD (Paediatric Medicine) in 1978 from Madras University. He is currently working as a Consultant Paediatrician, Fortis Malar Hospital, Adyar Chennai, 1995 to date (26 years). Dr. Benny Benjamin special interests are Infectious Diseases and Vaccinology.