PG Medical Students, Faculty to take MANDATORY Research Methodology Course from AY 2019-20: MCI Board of Governors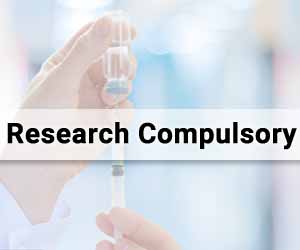 New Delhi: Doctors pursuing their PG medical courses in India will now mandatorily have to undertake an 8-week research methodology course during their study, as the Medical Council of India Board of Governors recently took out a notification to this effect.
Not just this, the course will also become mandatory for faculty members who have no prior formal training in research.
A recent notification was issued by the council making the course mandatory for all postgraduate students being admitted from the AY 2019-20 onwards.
" To comprehend the evidence published in biomedical literature, doctors need to have an understanding of research methods. Therefore, acquiring research skills is an integral component of postgraduate training in the country," the notice stated
" To ensure that all postgraduate students and faculty acquire the necessary skills, the Board of Governors of the Medical Council of India has decided to introduce an online course in Basic Research Methods for all postgraduate students in the country, and also for the faculty training them," the notice added
The salient features of the course include


The online course in Research Methods is mandatory for all postgraduate students being admitted from the AY 2019-20 onwards.


All PG students will have to complete the online course by the end of their 2nd semester.


For faculty who has no prior formal training in research, it is recommended that they too complete this online course.


The online course will be conducted by the National Institute of Epidemiology (NIE) of the Indian Council of Medical Research. The students will have to register on the NIE portal.


The course allows a flexible time for students/faculty to register and start the course (which would be about 8 weeks in duration with inbuilt time-bound assignments and assessments). However, the course completion requires the candidate to appear for an online offsite exam which will be held at fixed times (about twice in a year).


An online certificate will be generated on successful completion of the course and This document will be taken as proof of completion of the online course.


There will be no fee for the online course but students will have to pay an appropriate fee for the examination (the details of the same will be available when one registers for the course).


It is expected that the portal for registering for this course for the current academic year will open by the 1
st
August 2019. Details of the site, the process of registration, etc will be communicated in due course of time, both on the MCI website and by notification to the college.