PGI Chandigarh under scanner for allegedly dumped Bio-medical Waste in garbage processing plant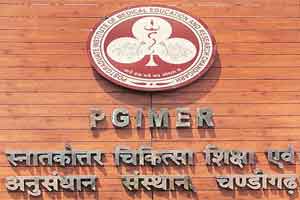 CHANDIGARH: The Post Graduate Institute of Medical Education and Research (PGI Chandigarh) has recently fallen under the scanner of both Municipal Corporation (MC) and the Chandigarh Pollution Control Committee's (CPCC) on account of allegedly violating bio-medical waste management rules. Two separate notices have been issued to PGI by the MC and CPCC for dumping bio-medical wastes in a garbage processing plant in Sector 25.
According to a recent media report, PGI was found dumping bio-medical wastes without complying the norms. Last week, the authorities present in the garbage processing plant had come across vehicles containing biomedical waste entering the plant for three consecutive days. The drivers of the vehicles were interrogated right away. The name inscribed on the vehicles that read PGI were sent back and the matter was referred to CPCC as well as MC.
An inquiry conducted by the sanitary department of the MC collected sufficient evidence to substantiate the allegation. A complaint was lodged in the CPCC in this regard against PGI for dumping bio-medical waste.
A couple of days ago Medical Dialogues had reported that the Central Pollution Control Board (CPCB) had proposed the Environmental Compensation and had submitted a report in this regard. Following the report, the National Green Tribunal (NGT) had directed all States and Union Territories to observe the bio-medical waste management or pay a fat sum of Rs 1 crore every month till the non-compliance lingers in their region.
Also Read: Bio-Medical Waste Management: States to pay Fine of Rs 1 crore per month if Hospitals found violating rules, says NGT
Presently, PGI has received two separate notices from the municipal corporation and CPCC for non-management of biomedical waste.
Chandigarh MC while issuing a notice to PGI has directed it not to carry bio-medical waste mixed with solid waste to the garbage processing plant in future. In its notice, the corporation has pointed out the evidence and stated that the PGIMER's action is in violation of the rules since biomedical waste could not be mixed with solid waste.
"It is being brought to your notice that your vehicles carry biomedical waste mixed with solid waste to the garbage processing plant, Sector 25 for processing, which is in violation of rules. The biomedical waste is required to be sent to the incineration plant of the PGI for disposal. Photos of the vehicles carrying bio-medical waste there and their drivers are attached," stated the notice
Besides MC, CPCC has also sent a notice to PGI seeking clarification on the matter.
"We had received complaints from both MC and garbage processing plant. We studied the issues and finally sent a notice on Monday. The PGIMER has been asked to give its reply on the subject and clarify its position. Once it gives the reply, we would decide the next course of action," a senior CPCC official told TOI.