PGIMER blocks Facebook, YouTube after Excessive Internet usage during Duty hours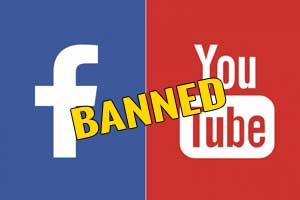 Chandigarh: With the purpose of preventing its employees using the internet "excessively" during working hours, the Postgraduate Institute of Medical Education and Research (PGIMER) has blocked Facebook and YouTube on all its computers.
As per medical college's authorities, this decision to block Facebook and YouTube on all its Local Area Network (LAN) computer systems was taken after low internet speed was noticed at the institute, following the excessive use of social networking sites and YouTube.
The management had taken this rigid step last year as well albeit temporarily, but this year, after consistent monitoring, the decision appears to be permanent.
The excessive use of these sites is reported to be the fall in the overall internet speed, which consequently suffered the hospital related work. Sharing the problems that were recurring due to excessive usage of these sites, PGIMER spokesperson told TOI, "It had halted patients' works, like uploading of a medical record, as these sites take a lot of bandwidth. The officials then decided to block these sites… It was found that most of the staff were using these sites during duty hours."
Read Also: 90 percent Resident Doctors under Stress, Reveals PGIMER Survey
The decision has reportedly ticked off resentment at PGIMER. Most of the doctors including faculties have stated that these sites are being used for academic and research purposes and instead of blocking Facebook and YouTube, the management could have used some other way.
All computers in PGI have access to the Internet through broadband. "Presently, there is no Wi-Fi on the campus. It is available only in the library. These sites are blocked there too," a resident doctor stated.
With the sites being blocked, resident doctors have no other alternative but to use their own tabs and mobile phones, however, the problem for that is the unavailability of the network at some of the corners at the medical college premises.
 "Not all the mobiles catch network inside the hospital. Videos take time to upload. When we need to get digitally connected, we cannot manage such a basic issue without blocking the sites," a faculty member informed.
The monitoring systems of PGI found when the social networking sites were opened, there were 1 lakh views in a couple of days, and when they were blocked, the views were reduced to 15,000, reports TOI.
Read Also: VICTORY: Foreign Medicos to get paid at PGI; AIIMS, JIPMER to follow
Medical Dialogues had earlier published a study which revealed that medical students with internet addiction had three times the risk of developing social phobia, four times the risk of developing depression when compared with students without internet addiction.
Read Also: 60 percent MBBS students have some form of Internet Addiction: Study