Phone Switched Off: JJ Hospital Dean Transferred to Kolhapur GMC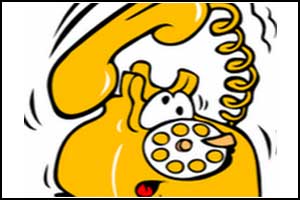 Mumbai: Having his mobile phone switched off, has apparently taken a grim turn for the dean at JJ hospital. Recently, the State Medical Education Department transferred Dr SD Nanandkar, dean JJ Hospital to Rajarshee Chhatrapati Shahu Maharaj Government Medical College in Kolhapur, citing his unavailability as the main reason.
Secretary, Medical Education, Sanjay Deshmukh confirmed to Mirror about the move and said that the state was forced to transfer Dr Nanandkar as he was often unavailable when needed.
"JJ is a big super speciality hospital. When high profile cases come or any mass disaster happens, the JJ dean should be reachable at all times. It's a sensitive post. Unfortunately, Dr Nanandkar was unable to handle the post properly. So many times, he didn't pick up my calls, half of the time he was not available at the hospital and nobody knew his whereabouts," Deshmukh complained to the daily.
The dean kept not one, but three numbers switched off, alleged the secretary. "He has three numbers but all three numbers were not reachable. Such an approach is not acceptable."
The secretary also brought the recent doctors' strike up and said that it was another reason for the transfer order. He told Mirror, "During the strike, many security guards who were posted in the casualty ward were shifted to the parking area to see that no cars from outside entered the hospital…Guards were needed inside the casualty wards, not in the parking area,"
Dr Nanandkar had earlier been served two memos for not answering phone calls. The phone being not reachable further became an issue for the dean, when the secretary tried to dial his number to hear his version before issuing the transfer orders, his phone was once again not reachable. The official also cited the long absence of the dean stating that he was absent for 119 out of a total of 262 days on the job.
Dr Nanandkar's transfer order was signed by Chief Minister Devendra Fadnavis, Medical Education Minister, Girish Mahajan, Secretary of Medical Education Department, Sanjay Deshmukh and Dr Pravin Shingare, Directorate of Medical Education and Research (DMER).
The doctor, however, clearly denied the allegations, calling them baseless. When contacted, Dr Nanandkar confirmed to Mirror that he had been transferred to Kolhapur but denied allegations of being unavailable. "These are baseless allegations," he claimed.
"I was always available in the hospital, we have a biometric system of attendance, but there were some issues with the punching system." Explaining why he was often unavailable on the phone, Dr Nanandkar claimed that it was because there was no cell phone network in the dean's chamber.