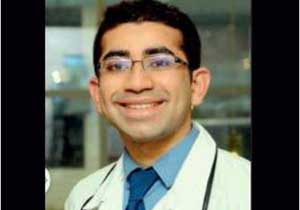 Surat:
A routine flight turned into critical medical emergency at an altitude of 35,000 feet over the Atlantic when a US resident's health suddenly deteriorated. Yet, challenging the medical crisis out, a doctor hailing from Surat thought on his feet and saved the patient's life. Jim Rogers (76), a resident of Wisconsin in the US, was flying on the Delta Flight 11 London-Minneapolis flight. His health deteriorated when his blood pressure abruptly shot up to 200-120 and blood started to ooze out of his right eye. Promptly coming to the sufferer's rescue, Dr Aditya Shah, who was on the same flight as him immediately gathered all the medical supplies from the plane's first aid kit with the help of a veteran nurse Anne Henson and Hennepin County EMT Blake Tyra and arranged blood pressure medication from a fellow passenger. During the flight, Dr Shah managed to create an eye-patch for the patient. "The flight crew had given us sleeping masks with an elastic strap on the back so I used one of those to secure the icepack and bandage over Jim's eye in hopes it would stop the bleeding," Dr Shah said. "Thankfully, after a while, it did." When stabilized, Rogers was shifted to a hospital in Ireland where he was detected of a corneal melt. Later he had to undergo several surgeries. Margaret, Jim's wife, told
In the Loop
that she'll never forget what Dr Shah did for the patient. "During landing, Dr Shah sat next to Jim and held his hand," she says. "That sight brought both the flight crew and me to tears." Shah's father Dr Sanjeev is an orthopaedic surgeon in Surat for the past 30 years. "We are proud of his timely gesture. My wife Radhika is responsible for our son's upbringing and helping him imbibe Indian values. His brother is also an orthopaedic surgeon," Sanjeev told the
Times Of India
. Dr Shah thanked his In-flight team and said, "I think that our team was God sent for Rogers on that particular day." Dr Shah is currently an infectious diseases fellow at Mayo Clinic School of Graduate Medical Education. He was a student of St Xavier's School in Surat, completed his MBBS from Mumbai. He went to the US five years ago and acquired his Doctor of Medicine (MD) degree from Chicago. Though the incident happened in the first week of March, it came to the media notice only recently.
3 comment(s) on Physician-in-Training Saves Man's Life at 35,000 feet