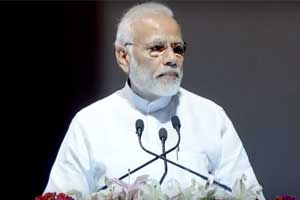 New Delhi: Prime Minister Narendra Modi  said the Centre along with state governments is trying to build infrastructure for modern healthcare to benefit the poor and the middle class
After laying the foundation stone for the National Centre for Ageing at the All India Institute for Medical Science (AIIMS) here, Modi said in the last four years, the Centre has given priority to the health sector to provide modern healthcare to the people. The Prime Minister commenced a series of projects for AIIMS as well as Safdarjung Hospital which would together add a total of 1800 beds capacity. These include
The PM laid the foundation stone of the National Centre for Ageing at the medical center which will be built in a year and a half at an estimated cost of Rs. 300 crore. The Centre with 200-bed capacity will provide the older population with multi-speciality healthcare.
The Prime Minister inaugurated a tunnel connecting the main building to its trauma facility.  The one-km long motorable tunnel will facilitate the transfer of the patients and their relatives, doctors, instruments and medicine between All India Institutes of Medical Sciences or AIIMS, Ansari Nagar and Trauma Centre.
 He also inaugurated a 300-bed Powergrid Vishram Sadan at AIIMS.
At Safdarjung Hospital, PM Modi inaugurated a 555-bed super-speciality block and a 500-bed emergency block. "Over Rs. 1,300 crore was spent on the Safdarjung Hospital to make it technologically advanced," he said. The move would make Safdarjung, the largest emergency care hospital in the country, he added.
"Along with state governments, the Centre is trying to build infrastructure for modern healthcare all over the country," he said
"Because of policy interventions of the government, we are moving towards a situation where we are providing good healthcare for the poor and middle class so that they don't have to pay unnecessary cost for healthcare," Modi said
He appealed to the medical practitioners for their dedicated participation to reach the goals of universal healthcare in India
"We appealed to doctors to provide free consultations to doctors on the 9th of each month and I am extremely grateful for thousands of doctors who came out and supported to the campaign. I appeal to more doctors to come forward and become a part of this movement," he added
1 comment(s) on PM Modi at AIIMS: Projects worth Rs 1700 Crore commenced