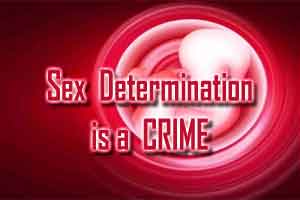 Gurugram: In a recent raid by the PNDT authorities, a team of officials from Haryana busted a sex determination racket in Roorkee, Uttarakhand. Four persons, including a doctor, were arrested in the said raid.
The authorities sprung into action after getting information about an active racket involving certain private nursing homes based in Gurgaon, Rohtak and Pataudi towns. The District Appropriate Authority-cum-Civil Surgeons of Haryana's Rohtak on August 20, formed a team consisting of Sanjeev Malik and Vishal Chaudhary.
A senior doctor said the team met a decoy customer and contacted the agent Abdul Salar, who agreed to conduct the sex determination test at Rs 30,000. The agent called the customer and her husband around 3.45 a.m. near Chauhan Hospital in Pataudi area on Wednesday, from where he and a lady doctor Beaula took them in a car to Roorkee.
"A female staff of a private hospital in Pataudi named Beaula, assured the decoy she could get a sex determination test done in Roorkee for Rs 35,000, paid in advance. Teams from Gurgaon and Rohtak left from Pataudi at 4am on Wednesday and followed the decoy customer to Roorkee."
"On the way, the decoy customer was thrice handed over at different points by one tout to another. Eventually, they reached the private ultrasound center in Roorkee. The undercover team paid the money and went ahead with the sex determination test. As soon as the doctor conducted the test, the team called local police, who nabbed five people," chief medical officer Dr B K Rajora told
TOI
Police have arrested doctor Vikas Tomar, agent Salar, Sanjay Kumar and another man for the crime, while the lady doctor Beaula was also being questioned.
"There are 52 authorized ultrasound centres in Uttarakhand. Authorities told us that this was the first case registered ever," Shyam Sunder, one of the team members, told IANS.
0 comment(s) on PNDT raid at Roorkee, 5 including a doctor arrested