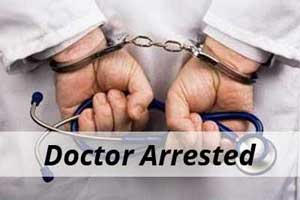 NEW DELHI: A Delhi based doctor and two of his associates were arrested as they were about to carry out a banned sex determination test for a pregnant woman in a car in a secluded forest on the outskirts of the capital, a government official informed.
The health department officials along with the police, acting on a tip-off conducted a raid finding the doctor and two of his associates running a mobile sex-determination clinic out of a small, white sedan. The decoy pregnant woman was sent to them and a deal for sex-determination of the foetus was made at a price of Rs 30,000. The decoy patient was told to meet a go-between in a small town north of New Delhi. That man took her money and drove her to a nearby forest, where the doctor was waiting.
The police, who were following them, made the arrest just as the doctor was about to begin the exam inside his car, with the ultrasound powered by a portable generator he'd brought with him.
Dr Subhash Jain of Delhi's Narela, Vinod Kumar of Nangal Kalan and Manoj Kumar of Sonepat was arrested on the spot and the machine was seized said Adarsh Sharma, a health official in Haryana, The doctor had been testing for gender since 2015, Sharma told AP.
The three have been booked under Sections 3, 4, 5, 6 and 23 of the Pre-Conception and Pre-Natal Diagnostic Techniques (PC and PNDT) Act and 120 B (criminal conspiracy) of the IPC and face up to three years in jail if they are convicted.
0 comment(s) on New Delhi: Doctor arrested for conducting sex determination in the back seat of a car