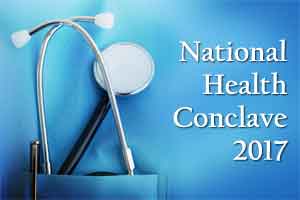 The National Health Conclave 2017 is going to held on August 10-11 in Delhi. The theme for this year's event is Chronic care: Innovation Opportunities and Challenges.
The theme of this conclave is Chronic care as the Chronic conditions have become the biggest epidemic contributing enormously to the global burden of disease both in developed and developing nations. Combating this problem is one of the most significant challenge for the public health community globally. Although, India's healthcare sector has made impressive strides in recent years, it needs to gear up to tackle the chronic disease epidemic efficiently and effectively.
The motive behind this conclave to bring together health and non-health sectors to share and learn from experiences as India is working aggressively to achieve the goal of Universal Health Coverage (UHC) for all its citizens in general and those below poverty line (BPL) in particular. With host of government health insurance schemes in offing, it is estimated that about 50 percent population was covered with some definite amount of health cover.
................................ Advertisement ................................
Organizing leaders 
................................ Advertisement ................................
Public Health Foundation of India (PHFI)
Association of Healthcare Providers India (AHPI) remain the organising leads
Other Stake Holders
Ministry of Health and Family Welfare
Ministry of AYUSH, Government of India
Director General Medical Services – Defense (DGMS)
Department of Biotechnology
Ministry of Science and Technology
Government of India
National Board of Examination
National Health Systems Resource Centre
National Centre for Health Informatics
Quality Council of India
Indian Space Research Organization
Public Health Foundation of India
Indian Council of Medical Research
Indian Institute of Management
Bangalore, Indian Institute of Technology
Christian Medical College, Vellore
National Law School of India University, Association of Healthcare Providers India
Association of National Board Accredited Institutions, Consortium of Accredited Healthcare Organizations
Association of  Biotech Led Enterprise
Association of Indian Health Sciences Universities
Association of Indian Medical Device Industry
Disease Management Association of India
Organization of Pharmaceutical Producers of India
Healthcare Sector Skill Council
Indian Medical Association
Indian Pharmaceutical Association
British Medical Journal India
Medical Dialogues is the Media Partner of the National Health Conclave 2017.
Studied at Indraprastha College for Women (Delhi University), completed in year 2014. Currently working with Medical Dialogues, a online Medical news paper dedicated for healthcare Professionals.
0 comment(s) on Premier Health Conclave associations meet for National Health Conclave 2017