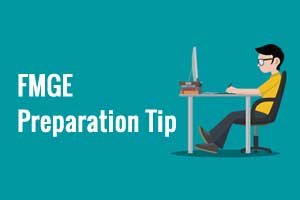 With the FMGE exams coming up in June and with the continuous downward trends in the pass results, students indeed dread their fate with the exam. In the current scenario, not only are there strong jitters regarding the exam but with National Medical Bill and NEXT examinations being proposed aspirants are now facing a lot of confusion regarding the correct strategy that should be applied on the D-DAY. However, with proper and strategic preparation, every student can clear this exam, no matter its uncertainty or level of difficulty
Medical Dialogues team did an exclusive interview with Dr. Sumer Sethi, Director,Delhi Academy of Medical Sciences and a past AIPGMEE topper himself and have taken some important tips on the Preparation of the exam from a mentor who has helped lacs of PG aspirants and FMG students and revolutionized the PG and FMG medical entrance and training. Read full interview…..
Q) With FMGE, what are the important things that aspirants should keep in mind?
In the earlier years with FMG exam classically was based on one-liner questions but now there has been a gradual shift with one-liner questions accounting for 60% questions, 20% being conceptual and rest is formed by image-based and clinical questions. There are 300 questions which have appeared on the computer screen; with the pass mark being 150 and without negative marking is the pattern of the exam. To achieve this score of 150 in the changed pattern is becoming a daunting task.
Therefore, the students should focus on revising their conceptual notes rather than going for rote learning from guidebook literature or shortcut bullet points. Also, to help our students appear for this exam DAMS recently conducted a couple of simulated CBT exams in designated computer centres in India and abroad, and approximately students from five countries had participated in the same.This was the first such exercise done by any medical institute.
Q) Can you guide on some hot topics or subjects for this year's exam?
At this point of time, the focus should be on concepts and one should have a thorough knowledge of facts. This paper is being conducted by National Board of Examination (NBE) and preliminary focus lies on Obstetrics and Gynecology, Community Medicine, and Basic subjects. They account for almost 60% of the questions.
Last 30 days should be utilized for revision.
Q) With just five months left for the exam what should be the revision strategy from students?
Students should make a simple plan that is every month from now on should be directed to finish a year of the medical curriculum. February for Anatomy, Physiology, Biochemistry. March for Pathology, Pharmacology, Microbiology and Forensic Medicine. April and May for Community Medicine, Ophthalmology, ENT, Medicine, Surgery, Pediatrics, and OBGY. At least two short subjects should be done every month.
Students have to be computer friendly and should practice giving long session CBTs to be confident in this pattern.Students should make sure that you revise your notes in last 20-25days. Don't forget to revise visuals as this is a possible change this year. And finally, this exam will have 300 questions so make sure that time management skills are geared for a long session.  I wish all FMG aspirants best of luck!
Q) How has DAMS changed is teaching style and course curriculum to match the new pattern of FMGE?
DAMS has been the pioneer in the segment of FMGE and PG entrance preparation for last two decades. We have been able to maintain our leadership position because of our constant endeavour to changing pattern. Medical entrance exam pattern is very dynamic, with FMG style of questions has changed from one-liner only to a mixed bag. Also in the new style of questions number of repeat questions has gone down and our teaching methodology is primarily based on comprehensive brush up of the entire subject in contrast to just mugging up the repeats. We base our SRS series (Short review series) on standard textbooks like Robins Pathology, Harrison Textbook which is more apt for current scenario than so-called guidebooks which are just random compilations of old-style questions which are no longer relevant in new style FMGE.
Even we have a special iDAMS for the MCI curriculum where all the nineteen subjects have been covered by faculties in modular fashion followed by review questions.
Q) How is DAMS different from other institutes in providing training for FMG Curriculum?
First of all, we specialize in our method of teaching and our materials and tests. Secondly, the key point is that we have separate faculty who have postgraduate and higher degree in their own subject who take the classes as contrary to others who use a single; in many conditions who is not even a postgraduate to take multiple subjects. Third; we devote significant time for every subject like medicine and surgery range for 50 hours; followed by a 40-hour class each for Anatomy, Physiology, Pathology, Pharmacology, Microbiology, Community Medicine, and  OBGY. Biochemistry, Ophthalmology and Pediatrics are taught for almost 30 hours. Smaller subjects are allocated 20 hours each. So in total, a rigorous training program of 600 hours has been built for the FMG students.
Q) DAMS has always been on the forefront of producing topper in every competitive entrance exams? What techniques are employed by DAMS faculty to better and consistent results?
We run live face to face classes in India at Delhi and also provide live classes in almost 5 countries like China, Russia, Kazhakistan, Krzystan etc. We use our own method and Pedagogy at DAMS which is based on the principles of Quality conceptual teaching and Progressive Assessment. Our teaching methodology recognizes that intricate subjects with inter-linkages with other subjects require multiple passes for deeper understanding. At least 3 passes are typically required for effective clarity, cognizance and retention.  The combination of our classroom, specially designed tests, Review Sessions based on specific exams. Our Short Review Modules and Question banks create the opportunity for 4-5 revisions of the syllabus. Our multi-step progressive assessment is a well-structured program which at the formative level assesses student's comprehension of taught subject matter through class tests, Subject wise and Grand Tests. Our comprehensive Assessment Program is intensive and instructive in orientation and implementation.
For more information check out the site of DAMS for FMGE Website http://mci.damsdelhi.com or  for queries contact; info@damsdelhi.com
0 comment(s) on Preparation for FMGE- Expert Tips