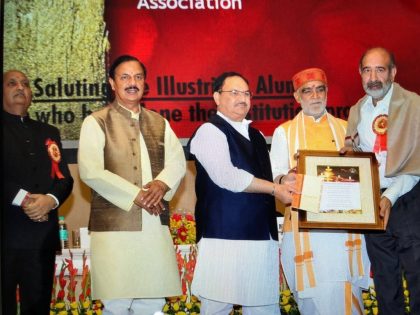 New Delhi: The platinum Jubilee celebration function of Safdarjung Hospital, saw Dr Girish Tyagi, Secretary, Delhi Medical Council, as well as the President-Elect, Delhi Medical Association, being facilitated with the Distinguished Alumni Award.
The honour, which aimed to celebrate the illustrious Alumni of  the hospital was conferred to the doctor at Vigyan Bhawan on 27th April 2018 by Sh JP Nadda honourable Union Minister Health & Family Welfare, Dr Mahesh Sharma Hon'ble Minister of State for Culture, Sh Ashwini Kumar Chowbey Hon'ble Union Minister of State for Health & Family Welfare.
Active protagonist of patient's rights, Dr Tyagi is known for taking punitive action against quackery and strengthening medical education. He has been recognized as a key thought leader and policy maker in the realm of clinical medicine.
The authorities acknowledged him as a staunch protagonist of medical ethics and transparency in clinical practice and an active campaigner for patient's rights.
Currently the President-Elect of DMA, Dr Tyagi has held to post of Secretary DMA twice in the past and has been DMC registrar for the past decade.
Speaking on the occasion, Nadda suggested the hospitals appoint high-quality qualified counsellors in order to communicate with the patients and their attendants to enhance doctor-patient relationship.
"They need to be professionals who are qualified in communication. This is important as patient load increases and patient-doctors altercations tend to increase," he further added.
0 comment(s) on President Elect, Delhi Medical Association, Dr Girish Tyagi honoured