President presents National Florence Nightingale awards to outstanding nurses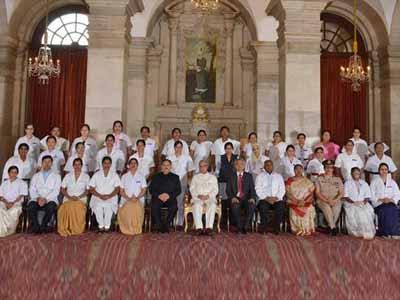 President Pranab Mukherjee Monday presented the National Florence Nightingale award to nursing professionals at Rashtrapati Bhavan on the occasion of International Nurses' Day here.

Nurses are the largest workforce in the healthcare industry in India. Nursing services and capacity building have expanded considerably since Independence and their roles and responsibilities have multiplied over the years, Mukherjee said.

"The International Council of Nurses has rightly recommended that the nursing workforce in India can be an instrument of change - through better workforce planning, improvement in its education and work environment and through a constructive process of assessing and addressing the nursing workload," said the president.

"Nurses can definitively participate in strengthening the current nursing framework in India. As trainers and system innovators, they can do much to develop better methods and educate the communities in which they live and work," he said.

He said India's broader national goals in healthcare reform, the nursing fraternity would need to go even further by substantively contributing to policy development and ensuring that it evolves in the right direction and responding to the needs of our diverse communities.

"There is a need to encourage the nursing fraternity to involve themselves in reviewing and re-modelling practices, modernising methods and rising to the challenges," said Mukherjee.