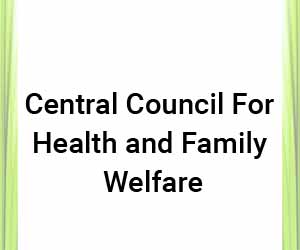 New Delhi: The government has reconstituted Central Council of Health and Family Welfare and recently announced the appointment of various eminent medical professionals across the country to the council.
Confirmation to this effect was recently made by a recent Health ministry gazette notification that announced the
reconstitution of the Central Council of Health and Family Welfare by the president and also detailed the nature of duties to be performed by it and its organization and procedure.
The Central Council of Health and Family Welfare set up under Article 263 of the Constitution, is a premier advisory body to the Health Ministry and enables consideration and recommendation of broad lines of policy with regard to matters concerning health and family welfare. Therefore, the broad framework of the body has been with regard to the defining of policies and providing a broad strategic framework in the health sector.
................................ Advertisement ................................
The council is led by Union Minister of Health and Family Welfare as the Chairman, and consists of representatives of central and State Health Ministries, certain officials from other ministries including Woman and Child, AYUSH, Higher Education,etc; members from Lok Sabha and Rajya Sabha, prestigious medical associations as well as 10 eminent individuals appointed by the government
................................ Advertisement ................................
Following 10 eminent individuals have now been appointed to the council
1. Dr. Ashok Panagariya
Professor Emeritus,
Sawai Man Singh Medical College, Jaipur.
Ex-Vice Chancellor, Rajasthan University of Health Science.
Former Principal Director, Sawai Man Singh Medical College, Jaipur.
2. Prof. Ashok Puri
Distinguished Professor,
Jaipuria Institute of Management, Noida,
Former Director General, Fortune Institute & International Business, New Delhi,
Former Director General, Institute of Technology & Science, Mohan Nagar, Ghaziabad.
3. Dr. T.K. Joshi
Advisor Environmental Health,
Ministry of Environment Forest & Climate Change,
Ex. Commissioner for Inquiry into Silicosis for Rajasthan.
4. Dr. Harish Gupta
Senior Consultant Surgeon,
Dr. R B Gupta Medical Centre, Delhi.
Elected Member of Delhi Medical Council.
Former President, DMA.
5. Shri Ramesh Chandra, IAS
Former Health Secretary,
Government of India.
Former Power Secretary & Finance Secretary, Govt. of Delhi.
6. Dr. Ajay Kumar
Chairman & HOD,
BLK Institute of Digestive and Liver Diseases, New Delhi,
President, Indian Society of Gastroenterology,
Former Chairman, Fortis Escorts Liver and Digestive Diseases Institute.
Ex. President, Society of GI Endoscopy of India.
7. Dr. Shiva Kant Misra
President,
South East Asia Regional Co-operation of Surgical Care Society (SEARC).
Director & CEO, Shivani Hospital and IVF, Kanpur.
Ex-President of Association of Surgeons of India.
8. Dr.Vijayendra
President,
National Medicos Organization.
Prof. and Head,
Dept. of Paediatric Surgery, IGIMS, Patna.
9. Dr. Kamal Buckshee
Senior Consultant,
Indraprastha Apollo Hospital Sarita Vihar,
Senior Consultant, Fortis La Femme, Greater Kailash II, Delhi.
10.Dr. D.S. Rana
Chairman, Deptt. of Nephrology,
Sir Ganga Ram Hospital, New Delhi,
Chairman, Board of Management,
Sir Ganga Ram Hospital. New Delhi.
Besides these appointed individuals , other members of the council include
(a) The Union Minister for Health and Family Welfare : Chairman
(b) The Union Minister of State in the Ministry of : Vice Chairman Health and Family Welfare
(c) Member (Full time), NITI Aayog : Member
(d) Minister in charge of the Ministries of the Health and Family Welfare, Medical Education and Public Health in the States/Union Territories with Legislatures : Members
(e) A representative each of the Union Territories Dadra & Nagar Haveli, Chandigarh, Andaman & Nicobar
Islands, Daman & Diu and Lakshadweep : Members
(f) Member of Parliament : Members
1. Dr. Arvind Kumar Sharma : Lok Sabha
2. Dr. Rajkumar Ranjan Singh : Lok Sabha
3. Dr. C.P. Thakur : Rajya Sabha
4. Smt. Kanta Kardam : Rajya Sabha
(g) Non-Officials
(i) Representatives from Health and Family Welfare Sector
1. President, Indian Medical Association : Member (Ex-officio)
2. President, Family Planning Association of India, : Member Mumbai (Ex-officio)
3. President, Indian Council of Child Welfare, New Delhi : Member (Ex-officio)
4. Chairperson, Central Social Welfare Board, New Delhi : Member (Ex-officio)
5. President, Federation of Indian Chambers of Commerce : Member and Industry, New Delhi (Ex-officio)
6. President, All India Organisations of Employers, : Member New Delhi (Ex-officio)
(h) Officials
1. Secretary, Department of Health and Family Welfare : Member
2. Secretary, Department of Health Research and: Member Director General (ICMR)
3. Secretary, Ministry of Ayurveda, Yoga & : Member Naturopathy, Unani, Siddha and Homoeopathy (AYUSH)
4. Secretary, Department of Higher Education, Ministry of Human Resource Development : Member
5. Secretary, Ministry of Women and Child Development : Member
6. Director General of Health Services : Member
7. Economic Advisor : Member-Secretary
 Nature of the duties to be performed by the Central Council of Health and Family Welfare
The Council shall be an advisory body and in that capacity shall perform the following duties, namely:-
(a) To consider and recommend broad lines of policy in regard to matters concerning Health and Family Welfare in all its aspects, such as the provision of remedial, promotive and preventive  care, environmental hygiene, nutrition, health education and the promotion of facilities for training and research;
(b) To make proposal for legislation in fields of activity relating to medical and public health and Family Welfare matters, laying down the pattern of development for the country as a whole;
(c) To examine the whole field of possible co-operation on a wide basis in regard to inter-State quarantine during time of festivals, out-break of epidemics and serious calamities such as earthquakes and famines and to draw up a common programme of action;
(d) To make recommendations to the Central Government regarding distribution of available grantsin-aid for Health and Family Welfare purposes to the States and to review periodically the work accomplished in different areas through the utilization of these grants-in-aid; and
(e) To establish any organization or organizations invested with appropriate functions for promoting and maintaining co-operation between the Central and State Health and Family Welfare administration.
 Procedure of the Central Council of Health and Family Welfare:
The Council shall in its conduct of business observe following procedures, namely:-
(a) The Council shall meet once or more each year;
(b) It shall meet at such time and place as the Chairman may appoint in this behalf;
(c) Five members (including the Chairman) shall form the quorum for a meeting of the Council;
(d) The Chairman and, in his absence Vice-Chairman or such member as may be designated by the Chairman in this behalf from among the members referred to in clause (d) of sub-paragraph (I) of paragraph 1 shall preside at the meeting;
(e) All questions which may come up before the Council at the meeting shall be decided by a majority of vote of the members (including the Chairman) present at the meeting;
(f) In case of equality of votes, the person presiding shall have a second or casting vote;
(g) The Council shall observe in the conduct of its business such other procedure as it may, with the approval of the Central Government, lay down from time to time.
Author Details
Meghna A Singhania is the founder and Editor-in-Chief at Medical Dialogues. An Economics graduate from Delhi University and a post graduate from London School of Economics and Political Science, her key research interest lies in health economics, and policy making in health and medical sector in the country.
She can be contacted at editorial@medicaldialogues.in.
Contact no. 011-43720751
................................ Advertisement ................................
0 comment(s) on President reconstitutes Central Council of Health and Family Welfare, appoints eminent doctors