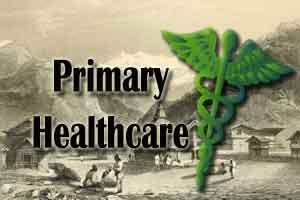 New Delhi: Its indeed a dilemma, that while medicine remains a dream career for most young children in the country, yet, state governments across are struggling to find qualified medical practitioners to man its primary points of interaction with the patients.
Raising this issue,  the Academy of Family Physicians of India (AFPI)  has recently urged the government to give the status of "speciality" to primary healthcare , saying their experts (family physicians) are the first point of contact for healthcare for most people.
President of the Academy of Family Physicians of India, Raman Kumar said, "By strengthening primary healthcare (PHC), burden of diseases at advance stages can be prevented. It needs effective planning and future road map to reach the target. The PHC forms the anchor around which entire healthcare delivery system is organised."
"Primary healthcare is not yet recognized by the Medical Council of India (MCI) as a specialty, although MCI has advocated for the creation of a diploma course in family medicine. Primary healthcare practitioners therefore have no formal system for career progression. They have lower pay and worse working conditions than their hospital colleagues," he added.
Currently, primary healthcare by the general physicians is not recognized by the Medical Council of India as any form of specialty.
Primary healthcare is a key component of the Indian healthcare sector to speed up its growth as the aim of the primary health sector is to provide an easily accessible route to care, whatever the patient's problem.
The World Health Organisation has identified five key elements as part of the primary healthcare, reducing exclusion and social disparities in health, (universal coverage reforms), organising health services around people's needs and expectations (service delivery reforms) and integrating health into all sectors.
Medical Dialogues team had earlier reported that India needs to invest more in public healthcare and build a robust health delivery system in all aspects, including infrastructure and human resources,with special focus on rural areas
Read also: India needs to invest more in public healthcare: WHO
2 comment(s) on Give Speciality Status to Primary Healthcare: Doctors urge Government