Private Hospital Doctors, Staff Attacked: 15 booked after Doctors association threatens dire consequences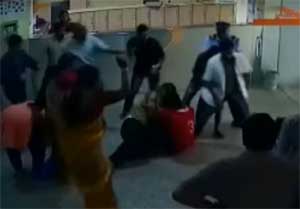 Thiruvananthapuram: Fifteen persons have been booked for allegedly attacking a doctor and five staff members of a private hospital here, with the Indian Medical Association (IMA) registering a strong protest against the incident.
The incident took place on Sunday at Attukal Devi Hospital, where Hospital staff and Doctors are brutally beaten up by a Mob. According to a statement by the Attukal Devi Institute of Medical Sciences director M Jayakumar, a group of persons who accompanied an accident victim to the hospital on Sunday demanded they be allowed in the procedure room. When the demand was turned down by the hospital staff and by medical superintendent Dr Prakash Janardhanan, the bystanders turned on them.  The Doctors and hospital staff were greviously Injured and hospital machines and equipment was damaged by violent mob.
[embed]https://youtu.be/6uYyi4OhCMM[/embed]
CCTV visuals of the attack soon went viral on social media.
Police said the accused have been identified and they would be arrested soon.
The Indian Medical Association said the incident was without any provocation. It also demanded that a case be registered against the accused under the Hospital Protection Act. The body also warned, in a statement, that if stringent action was not taken against the culprits, they (IMA) would be forced to "react".