Prof Dr Jagdish Chandra: An Extraordinary Success Story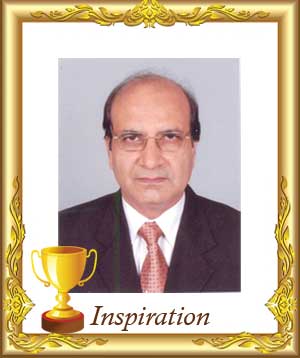 It gives me immense pleasure and satisfaction to write about an extraordinary personality, Professor Jagdish Chandra, who has been mentor and inspiration of thousands of medical students serving across the globe. He is presently serving as Director, Lady Hardinge Medical College and associated Smt Sucheta Kriplani and Kalawati Saran Children's Hospital, New Delhi.
Professor Chandra was born in a very modest family in a small town in district Mainpuri, Uttar Pradesh. His family migrated from Miyanwali in Pakistan at the time of partition. His father was a pharmacist in dispensary and had a strong influence in his childhood and instigated his interest in healing the human sufferings. He is 5th among six siblings. He completed his primary and secondary education from government school at his village in Hindi medium. Due to shortage of basic facilities like electricity, he had a hard time in fulfilling his dreams and many times he used to study under old time lanterns.  However, a disciplined atmosphere and inspirational guidance from his father were instrumental in achieving the heights of success for all his brothers and two of them finally completed their medical education.
Dr Chandra completed his MBBS and MD (Pediatrics) from Ganesh SankarVidyarthi Medical College (GSVM), Kanpur. Being from Hindi medium, he had a tough time initially in medical college; however he emerged victorious due to his strong will power. Later, he joined Post Graduate Institute of Medical Sciences, Chandigarh as senior resident and refined his skills in Paediatrics. He joined as lecturer of Pediatrics at AMU, Aligarh for a short period.  After that in year 1987, he joined Lady Hardinge Medical College and associated Kalawati Saran Children's Hospital, New Delhi as Assistant Professor and since last 30 years he has treated millions of babies at this tertiary care centre. He had shown exemplary commitment and dedication for children admitted in his unit and could be seen even in late evening hours in the wards. He received prestigious WHO fellowship in Pediatric Hemat-oncology and was trained in USA for 3 months, after which he started Pediatric Hematology and Oncology services at Kalawati Saran Children's Hospital (KSCH) and since then KSCH has emerged as one of the busiest centres in field of pediatric hematology and oncology treating maximum number and wide spectrum of children suffering with blood disorders in public sector in northern India. He was instrumental in establishing thalassemia centre at KSCH, which is providing regular blood transfusions and chelation therapy at free of cost to hundreds of children every year. Besides this, he played a pivotal role in establishing first pediatric anti-retroviral therapy (ART) centre of north India at KSCH in year 2006, which was inaugurated by US President Bill Clintonand since then huge number of underprivileged children with HIV have gained benefits at this centre. His dedication and efforts for treatment of poor and needy patients are unimaginable. He has got a very humble and sympathetic attitude for poorest of the poor and ensured that no child left untreated for lack of money. Many a times, he and his associates could be seen helping the poor patients both financially as well as arranging medicines and resources. He has supervised many postgraduate thesis, published 115 research papers in reputed national journals and 50 research papers in international indexed journals and authored more than 15 chapters in various medical text books. He was awarded honorary fellowship of Indian Academy of Paediatrics in recognition of his outstanding contribution in the field of paediatrics. He has also been awarded the prestigious RV Lokeshwar Oration of Pediatric Hematology Oncology Chapter of Indian Academy of Pediatrics for his lifelong achievements in the field of Pediatric Hematology.
He rose to the post of head of department in year 2014 at KSCH and managed the department with his extensive experience and wisdom. Recognizing his mature and excellent management skills, he was promoted as Director, Lady Hardinge Medical College (LHMC) in year 2016 by government of India and is serving with his exemplary behaviour and untiring attitude. Under his leadership, LHMC organised centenary celebrations for completion of glorious 100 years and was praised nationwide. Inauguration of human milk bank at KSCH, which is first of its kind in northern India, is another feather in his illustrious career at this premier institute.
His wife, Mrs Rekha and two daughters Swati and Richa have been his pillars of strength over the years. His students, including myself, are serving the mankind and sufferings of children all over the world. Thousands of medical (UG and PG) students have been benefited by his excellent clinical skills, extensive knowledge and prompt out of the box thinking for rare diagnosis in sick children. We always remember him for his humble, down to earth behaviour, his punctuality and his skill of imparting disciplined learning in the residents.
Love you always sir.
Story and Nomination by Dr Dinesh Yadav, MBBD, MD (Pediatrics), FACEE
Consultant Pediatrician and Neonatologist
Kailash Hospital, Behror, Alwar (Rajasthan)