Prominent doctor, former IMA Agra President arrested for Prenatal sex determination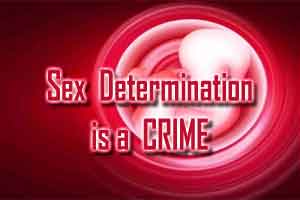 Agra: A Former president of IMA Agra branch has been remanded to the Judicial Custody by a special PC-PNDT court in Bharatpur after he was caught red-handed performing  sex determination on a decoy patient. The doctor, along with three others will remain in the judicial custody till July 27, 2017.
It is reported that the Rajasthan police recently raided Chopra Super Speciality Hospital, Agra and arrested its owner Dr Nirmal Chopra, along with her receptionist Tanisha for illegally determining the sex of a foetus. Dr Chopra  is  a well renowned social worker of the city  and is  a former president Indian Medical Association (IMA) Agra Branch. The police have also sealed the sonography machine installed at the hospital
It is alleged that a total of Rs 30,000 was charged for sex determination from the family of the expecting mother for sex determination out of which  Rs 15,000 was given to Dr Chopra and  the remaining amount was distributed equally between Tanisha and two brokers  Mahipal and Netrapal.
TOI reports that on a tip received from a number of  women from Bharatpur, Dholpur and other districts of Rajasthan that Dr Chopra conducting sex determination and abortions of female fetuses at her centre, a PCPNDT team led by Mr. Naveen Jain laid a trap to catch the doctor red handed.
A sting operation was carried out by sending a decoy customer, a pregnant woman from Bharatpur to nursing home of Dr Chopra, where the payment of Rs 30,000 was made to the receptionist Tanisha for determining the sex of the foetus.  Dr Chopra conducted the ultrasound examination and as soon as she pronounced the sex of the foetus, she was taken into custody and the amount of Rs 30,000 was also recovered. She has been remanded to judicial custody  along with her accomplices till July 27 by a  PCPNDT special court in Bharatpur, Rajasthan after the court rejected their bail application.,
It is Ironical that  during her public appearances Dr Chopra always propagated message of saving the girl child by reminding  people of the 'Beti Bachao - Beti Padhao' campaign of PM Modi.
The incident was criticized by IMA President Dr R S Kapoor who  said that this case has severely dented the image of the IMA and the association would like to go to the depth of this incident.
He further added that the association was completely against sex determination of fetuses and if Dr Chopra is indeed involved in this racket, then the association will take action against her in the coming meeting, reports TOI
It is being assumed that many more clinics  in Agra which are under scanner may have same fate in near future.