Protesting health employees who wanted to submit memorandum to Nadda, cane-charged in Kathua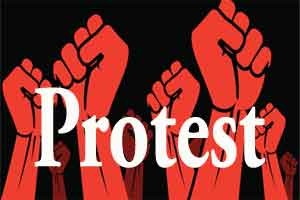 Jammu: As many as nine people including employees and police personnel got injured when police resorted to mild lath-charge to disperse the protestors, who wanted to submit a memorandum to the Union Health Minister J P Nadda in Kathua district of Jammu and Kashmir.
Mr Nadda was in the town to lay a foundation of Government Medical College and Hospital
Seeking regularisation and release of their pending salaries, the employees under the banner of Female Multipurpose Health Workers, this afternoon, when reached at the venue to submit a copy of memorandum to Mr Nadda and the Chief Minister Mehbooba Mufti, they were not allowed to proceed by heavy deployment of the police contingents.
The protestors were already on three day strike while a complete shutdown was also observed in Jammu Division except emergency services.
All revenue generating counters remained closed, even the OPD Slips were not issued.
"Employees from various districts of Jammu province reached Kathua to submit a memorandum to the Union Minister and Chief Minister after the conclusion of the programme in a peaceful manner to project their demands before the government,'' said an employee.
He said the administration detained them and shifted to the police station and alleged that police resorted to Lathi-charge to disperse the employees and at least five of them including women got injured.
"We resorted to mild lathi-charge to disperse the protestors, who were forcefully trying to disrupt the function,'' a police official said.
He said they also clashed with the police and four of the police personnel including two ladies constables, a constable and senior police officers also sustained minor injuries in the incident.
Meanwhile, injured employees were identified as Kamla Devi, Karmo Devi, Kuldeep Dabgotra, Choudhary Aslam.
Police however, said the detained protestors were released later.
Meanwhile complete strike was observed thought the Division and will continue till June 14 with 'Jammu Chalo Call'.