Mixed mood disorder secondary to Binswanger syndrome: a rare case report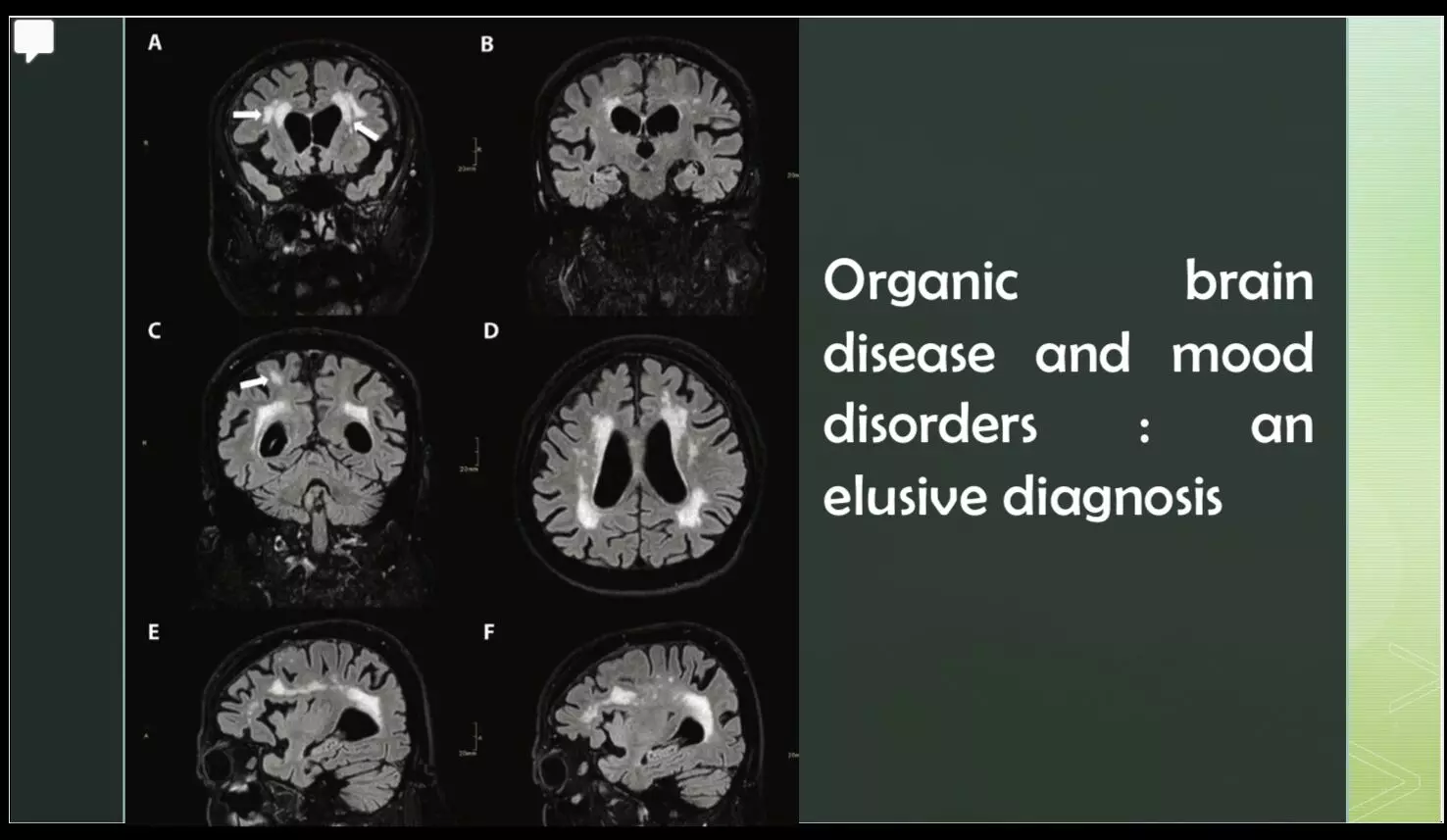 A case study published in the British Journal of Psychiatry has highlighted the case of a 71-year old Male, who initially with presented with varied psychiatric symptoms which later turned out to be secondary to white matter lesions in the brain. The case emphasises the significance of organic etiologies in psychiatric manifestations .
Neurocognitive and mood disorders in the elderly population have interchangeable symptoms and share common etiologies. Mixed and depressive mood, behavioural problems such as disinhibition, aggression and cognitive decline are common presentations of both disorders.

Late-onset bipolar disorder is often associated with secondary neurologic causes. The evidence of high prevalence of white matter (WM) hyperintensities on MRI among patients with late-onset bipolar disorder supports the vascular mania hypothesis. Subcortical ischaemic vascular dementia (SIVD) is one form of, vascular dementia (VaD) caused by the occlusion of small vessels resulting in WM ischaemia and multiple lacunar infarctions in subcortical structures. Data about psychiatric manifestations of SIVD are scarce.
A 71-year-old male, separated from his wife and children past 10 years, and living alone with the assistance for daily life activities, was referred to the emergency department (ED) after he had presented to the clinic with a loaded gun threatening to kill his wife and himself. Over the previous 2 months, the patient was having progressive worsening of his chronic low mood and irritability, passive suicidal ideations and impulsive behaviours and hyperphagia. He also started expressing homicidal thoughts towards his wife if she refused to come back home despite their separation for the previous 10 years.
In the ED, on MSE, the patient was anxious, irritable, minimally cooperative with staff and exhibited very labile affect. His speech was excessive and disorganised with tangential thoughts and flight of ideas. He also exhibited grandiose and paranoid delusions and perseverated about political topics and marital conflicts. He was taking medications that included Clomipramine Sustained Release (SR) 75 mg/day, bromazepam 3 mg two times per day and quetiapine 25 mg as needed for anxiety; however, he had a history of medication misuse and noncompliance.
Past psychiatric history was positive for benzodiazepine and alcohol use disorder after cardiac catheterisation, though, he had been abstinent from alcohol for more than 10 years. He also had a history of hypertension (HTN) and excessive smoking. He was diagnosed with major depressive disorder and underwent a full course of electroconvulsive therapy and was admitted twice for same after which he continued treatment on outpatient basis for residual depressive symptoms and other behavioural problems.
He also exhibited sexually disinhibited behaviours, agitation and aggression towards staff and other patients. In addition, he started reporting intermittent olfactory hallucinations that resolved the next day and were related to his paranoid delusions.
Neurological examination revealed, impaired abstraction, perseveration and broad-based shuffling gait. Otherwise, sensory, motor and cranial nerve examinations were all normal.
A brain MRI with gadolinium was done, and it showed increased fluid attenuated inversion recovery (FLAIR) signal intensity in the periventricular and subcortical WM, advanced degree of small vessel ischaemic disease and mild diffuse supratentorial atrophy slightly more prominent in frontal lobes. These findings were suggestive of Binswanger disease (BD)/ dementia also known as SIVD. Additionally, few old microbleeds were seen in the right temporo-occipital region and a tiny one in posterior aspect of left temporal lobe.
During his hospitalisation, clomipramine and bromazepam were tapered off with adequate monitoring for possible withdrawal signs. To address his manic and psychotic symptoms, patient was started on carbamazepine XR 200 mg adjusted to single nightly dose after levels of 9.9, because of multiple organic conditions, and metabolic side effect when compared with first-line medications. Risperidone was also initiated and maintained at 2 mg nightly. Other medications were added to control his cardiovascular risk factors.
Patient remained in the hospital for 10 days during which there was improvement in irritability, agitation and paranoid delusions. He was then transferred to a long-term facility for continuity of care where he died of complicated aspiration pneumonia.
The case highlights several important points for clinicians :
1. Binswanger disease is a form of subcortical ischaemic vascular disease that should be suspected in elderly patients with uncontrolled hypertension, presenting after their fifth decade with late-onset psychiatric disorders refractory to conventional treatment.
2. Brain imaging, mainly fluid attenuated inversion recovery-MRI but more importantly diffusion tensor imaging and proton magnetic resonance spectroscopy are a key diagnostic tool.
3. Treatment of this condition includes control of cardiovascular risk factors in addition to standard treatment for dementia and primary psychiatric disorders.
Source: BMJ Mdawar B, Abi Faraj C, Khani M, et al
Episode of mixed mood with psychotic features secondary to Binswanger disease: a case report with a literature review
BMJ Case Reports CP 2021;14:e238957.