The great psychiatric impersonator: viral encephalitis.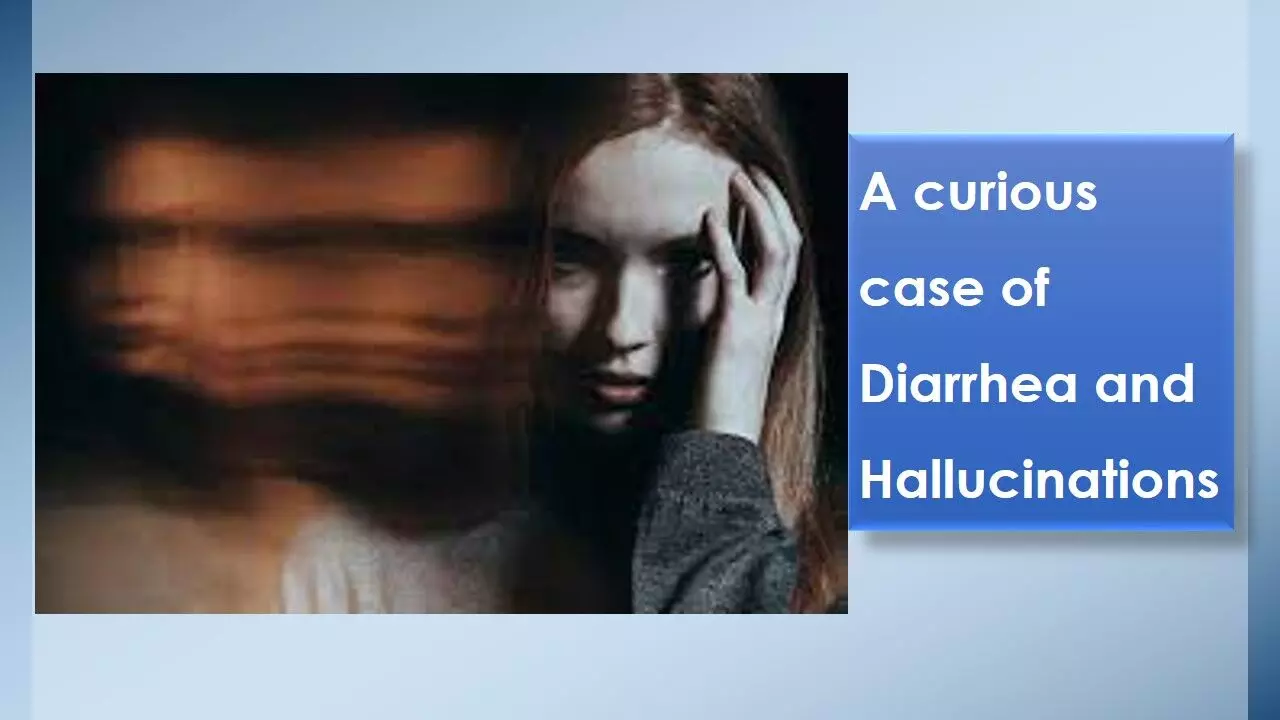 Viral encephalitis often presents with severe illness, headache, fever, behavioral changes, altered level of consciousness, and focal neurologic deficit. Psychiatric manifestations like hallucinations can often complicate the diagnostic process especially when present as a sole manifestation of encephalitis. Such psychiatric overlap of symptoms has mostly been reported with herpes simplex encephalitis. Deest et have reported one such case that presented with auditory and visual hallucinations as the sole manifestation of encephalitis and etiologic agent was found to be enterovirus.
A 22-year-old female patient presented to psychiatry department with acute auditory hallucinations since seven days and acute visual hallucinations beginning at the day of admission. As per her narration, she was hearing the same voice over and over, telling her to "go to the sea" and seeing an old, faceless woman, which would be the likely source of the voice. She never had this kind of symptoms before in her life.
There were no abnormalities of consciousness or orientation and no hints for other psychopathology changes, except that she was very frightened by the hallucinations. She reported episodic severe headache which would intensify the hallucinations.
One week before onset of psychiatric symptoms, the patient suffered from severe diarrhea for several days. The internal and neurological examinations were unremarkable, particularly no fever or neck stiffness was observed. The laboratory examinations were also within normal range.
Cranial MRI and an EEG were unremarkable. CSF analysis showed a normal cell count (1.0 cells/μl) and a normal blood-CSF-barrier function (albumin ratio 6.64, total protein 474 mg/l). There was no intrathecal synthesis of IgG, IgA, or IgM and no CSF-specific oligoclonal bands were detected (type 1).
Testing of antineuronal and autoimmune encephalitis antibodies in the serum and CSF showed no pathologies. PCRs and the antibody-specific indices for CMV, HSV, EBV, and VZV were negative. However, PCR for enteroviruses (ECHO) was positive, indicating an acute/subacute infection.
A symptomatic antipsychotic and anxiolytic therapy with risperidone (3 mg/day) and lorazepam (5.5 mg/day) and an analgesic therapy with NSAIDs were initiated. However, the symptoms of the patient got more severe. She reported that the quality of the auditory hallucinations changed and that the voice was telling her to leave and commit suicide. Olanzapine (7.5 mg/day) was added as a second antipsychotic drug; however, the symptoms worsened.
Four weeks after the first occurrence of the symptoms, the hallucinations and the headache suddenly stopped within a day under the above-mentioned treatment. In the next days, the medication was changed to aripiprazole (10 mg/day) because of hyperprolactenemia with risperidone. On subsequent reduction of olanzapine, no hallucinations or other symptoms recurred, and the patient could be discharged from the hospital treatment with a medication of aripiprazole (10 mg/day) and olanzapine (2.5 mg/day). 4 months after discharge, the patient was free of symptoms under treatment with 10 mg of aripiprazole.
One of the most important differential diagnosis of acute psychosis is the herpes simplex encephalitis leading to death in up to 70% of cases when untreated. However, this case report highlights that other central nervous system virus infections causing encephalitis are also capable of presenting with psychiatric symptoms but are often neglected in clinical everyday life.
Among the infectious diseases of the central nervous system, enterovirus infections are the most common and account for up to 77% of all viral meningitis cases in adults. In such cases a typical chronological order of symptoms, like the one observed in this case (the occurrence of diarrhoea followed by auditory, and visual hallucinations), can hint to a possible differential for symptoms that mimic an acute psychosis.
Source: M. Deest, C. Eberlein, S. Bleich, H. Frieling, T. Skripuletz, A. Neyazi, "Acute Enterovirus Encephalitis as a Cause for Isolated Visual and Auditory Hallucinations in a 22-Year-Old Patient", Case Reports in Psychiatry, vol. 2021, Article ID 6687735, 3 pages, 2021. https://doi.org/10.1155/2021/6687735