Binge-eating in kids influenced by mother's executive functioning, reports study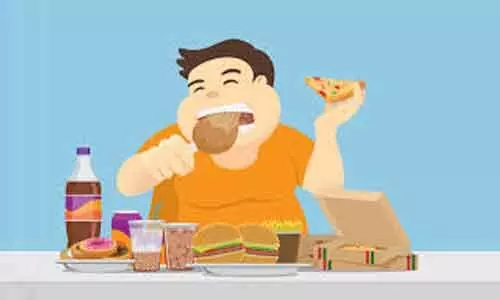 Binge-eating in children has been linked to adverse future outcomes. Investigators from Emory University school of medicine, USA have now published their study in Psychiatry Research journal which shows that maternal emotional regulation and executive functioning influences children's self-regulatory behaviour including eating.
Along with genetic vulnerability, social factors such as parenting have appeared to influence the development of binge-eating disorder (BED). Also, it is seen that mothers may transmit their emotion regulation process intergenerationally, exerting influences on their children through their parenting practices.
Similarly, executive functioning (EF) has played a vital role in the development of self-regulatory behaviour in children, which is likely to extend to maladaptive eating behaviour. For example a component of EF is the ability to inhibit impulses; mothers with a history of high impulsivity are more likely to have children with lower levels of inhibitory control, which play an essential role in eating disorders. This evidence suggests that maternal EF may affect parenting (poor levels causing negative parenting), which in turn may affect children's self-regulation abilities. Furthermore, poorer working memory is associated with reactive parenting.
A study conducted by Dominique La Barrie et al has explored that greater maternal emotional dysregulation and poorer EF, measured by clinical assessments and performance on neuropsychological measures, would be associated with more severe child BED symptoms.
In this study, they took 48 African-American mother-Child dyads. Mother and Children were interviewed separately
For child-assessment, scales used were- the Children's Emotion Management Scale (CEMS) & Children's Binge Eating Disorder Scale (C-BEDS).
For maternal-assessment, scales used were- Attentional Control Scale (ACS); Difficulties in Emotion Regulation Scale (DERS) Penn Conditional Exclusion Test (PCET), The Penn Continuous Performance Test (PCPT), and the Letter N-Back Task (LNB).
Linear regression results indicated that the mother's performance on a working memory task and a child's emotion dysregulation was significantly associated with the child's binge eating symptoms (R 2 = 0.34). These data, which reveal that maternal executive functioning is associated with self-regulatory behaviors in children, indicate a possible mechanism through which maladaptive eating behaviors may emerge early in development. This relationship merits further exploration in larger-scale prospective intergenerational studies.
Source: La Barrie, Dominique & Hardy, Raven & Clendinen, Cherita & Jain, et al (2020). Maternal Influences on Binge Eating Behaviors in Children. Psychiatry Research. 10.1016/j.psychres.2020.113600.
Available from:
https://www.researchgate.net/publication/346510164_Maternal_Influences_on_Binge_Eating_Behaviors_in_Children