Digital therapy SlowMo may benefit paranoia, JAMA study.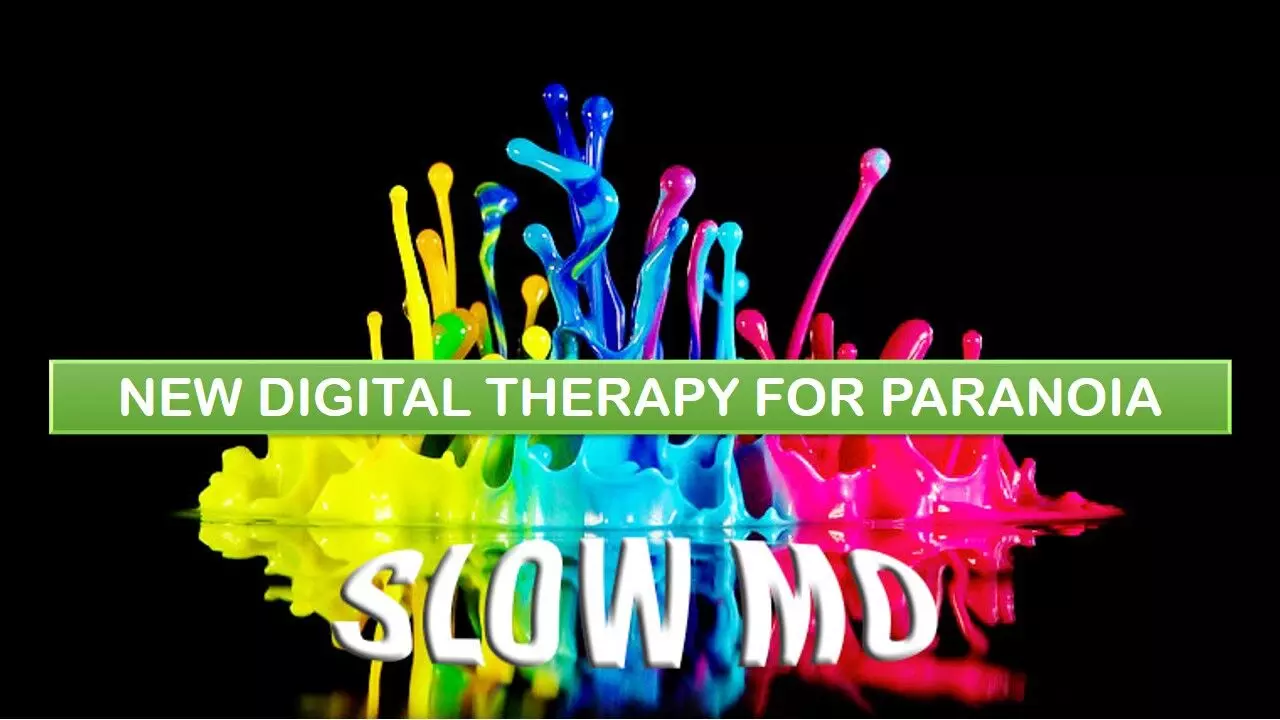 Paranoia is among the most common symptoms of schizophrenia spectrum disorders and is associated with substantial distress and disruption and thus developing effective therapeutic options for this symptom is a clinical priority. Researchers Garety et al have reported beneficial effects of SlowMo, a digitally supported reasoning intervention in paranoia, in the latest online issue of JAMA psychiatry.
SlowMo therapy adopts an interventionist-causal approach to increasing cognitive-behavioral therapy for psychosis (CBTp) effectiveness by targeting reasoning responsible for paranoia. These biased processes include jumping to conclusions (JTC) (ie, forming rapid judgments using limited information) and belief inflexibility (reduced metacognitive capacity for reflecting on and reviewing one's beliefs and considering alternatives).
SlowMo is a digitally supported CBTp consisting of 8 individual, face-to-face sessions (60-90 minutes). The intervention builds awareness of unhelpful fast thinking and supports individualized formulation. SlowMo then assists people with slowing down for a moment to find ways of feeling safer. Sessions are assisted by the SlowMo web app delivered using a touchscreen laptop, with interactive features including information, animated vignettes, games, and personalized thought bubbles. The web app synchronizes to a native android mobile app providing access in daily life to SlowMo strategies and individualized safer-thought bubbles.
SlowMo aims to build awareness of a tendency to JTC and develop increased belief flexibility. This randomized clinical trial aimed to test the efficacy of SlowMo in reducing paranoia and improving reasoning. With the aim to investigate the effects on paranoia and mechanisms of action of SlowMo plus usual care compared with usual care only, a parallel-arm, assessor-blinded, randomized clinical trial recruited participants at UK community health services. Eligible participants consisted of a referral sample with schizophrenia-spectrum psychosis and distressing, persistent (≥3 months) paranoia.
Individuals were randomized 1:1 to SlowMo, consisting of 8 digitally supported face-to-face sessions and a mobile app, plus usual care (n = 181) and usual care only.
The primary outcome was paranoia, measured by the Green et al Paranoid Thoughts Scale (GPTS) total score at 24 weeks. Secondary outcomes included GPTS total score at 12 weeks and GPTS Part A (reference) and Part B (persecutory) scores, the Psychotic Symptom Rating Scales (PSYRATS Delusion subscale), reasoning (belief flexibility, possibility of being mistaken [Maudsley Assessment of Delusions, rated 0%-100%]), and jumping to conclusions (Beads Task).
This randomized clinical trial of 361 individuals with clinical paranoia did not demonstrate that SlowMo therapy reduced the primary outcome of self-reported paranoia at 24 weeks compared with usual care only, although secondary beneficial effects were found on this measure at 12 weeks. Self-reported persecution and observer-rated paranoia were improved at both points.
SlowMo treatment was associated with improvements in reasoning, in belief flexibility (possibility of being mistaken), and Fast and Slow Thinking Questionnaire scores. Change in both belief flexibility and worry mediated improvements in paranoia. Therapy uptake and adherence were high. Treatment effects were not moderated by clinical or demographic variables, indicating benefits regardless of cognitive capacity, symptoms, or caregiver relationships. There was no evidence of the intervention being harmful, with similar numbers of serious adverse events in both groups.
"This is the first randomized clinical trial, to our knowledge, to test a blended digital therapy for paranoia in people with psychosis. Although no effect was demonstrated on the primary paranoia outcome at 24 weeks, the pattern of results on secondary outcomes indicates SlowMo had a positive effect on paranoia, ... The results indicate that the treatment was effective, in part, through helping people to slow down their thinking and to worry less", concluded the authors.
Source: JAMA Psychiatry. Published online April 7, 2021. doi:10.1001/jamapsychiatry.2021.0326