Micronutrients may be the "new age medicine" for ADHD, shows study.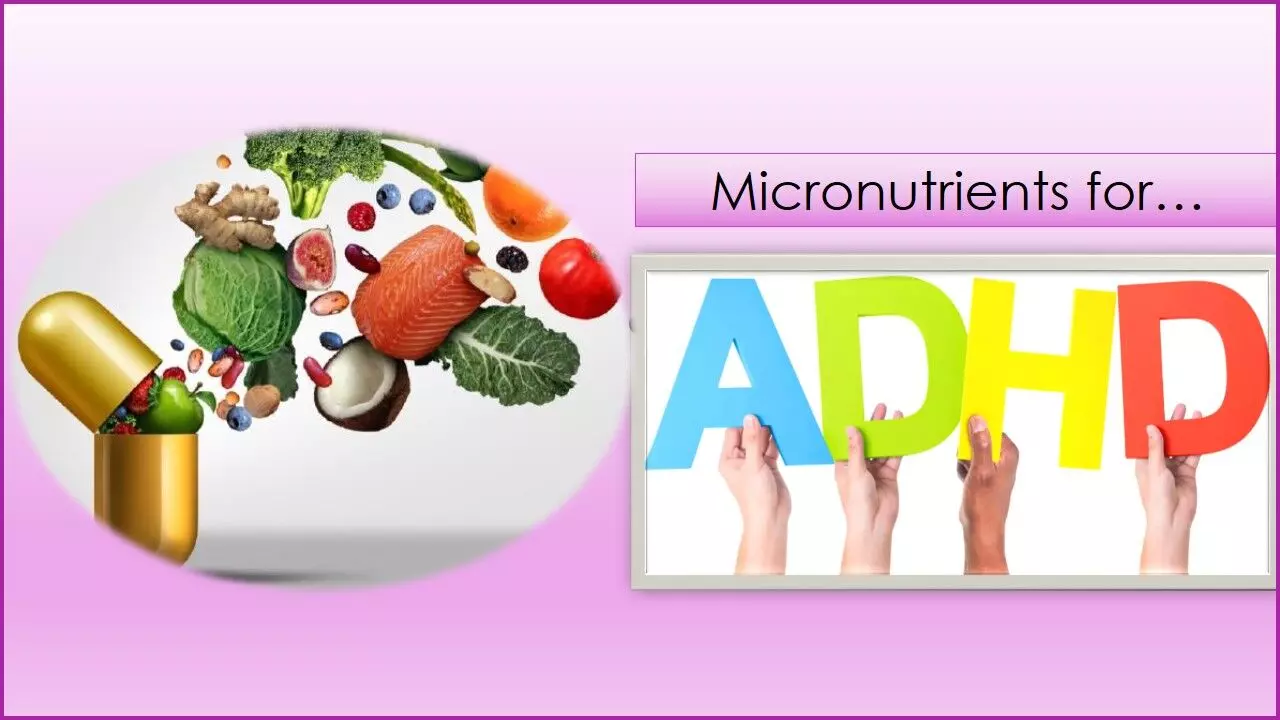 Micronutrients may benefit children with Attention deficit hyperactivity disorder (ADHD) and can emerge as a safer alternative to conventional pharmacotherapy without any undesirable growth stunting effects that has always been a cause of concern with contemporary drugs. These are the findings from a randomised controlled trial published recently in Journal of the American Academy of Child & Adolescent Psychiatry by Johnstone et al.
ADHD is a common impairing psychiatric condition affecting 5% to 7% of children. Pharmacologic treatment improves ADHD symptoms for many individuals, but concern continues over side effects, stigma, and potential long-term health effects, including mild growth suppression.
In particular, the evidence for height suppression has led to a call for nonpharmacological treatments. Supplementation with single nutrients (eg, zinc, magnesium) have shown mixed and modest benefit,with omega-3 supplementation showing the most consistent benefit.
The current study aimed to evaluate whether micronutrients (vitamins/minerals) benefit attention-deficit/hyperactivity disorder (ADHD) and irritability in paediatric sample.
In this study multi-site (3-site)trial, 8-week, placebo-controlled, randomised clinical trial, testing the benefit of a multi-nutrient formula was done consisting of vitamins, minerals, amino acids, and antioxidants in children age 6 to 12 years who were specifically recruited for ADHD and irritable mood symptoms.
At least 1 impairing irritability symptom by parent report on the Child and Adolescent Symptom InventoryÀ5 (CASI-5). A prior defined primary outcomes were Clinical Global Impression Improvement (CGI-I) (CGI-I of 1 or 2 ¼ treatment responder) and parent-rated CASI5 composite score of ADHD, oppositional defiant, disruptive mood dysregulation, and peer conflict symptoms, including impairment scores.
It was found that of 135 randomized 93% youths comprised the modified intention-to-treat population. For the CGI-I, 54% of the micronutrient and 18% of the placebo group were responders.
CASI-5 composite scores improved significantly for both groups (p < .01), with a mean change of -0.31 in the micronutrient group and a mean change of -0.28 in the placebo group. The micronutrient group grew 6 mm more than the placebo group (p=002). No serious adverse events or clinically significant changes from baseline in blood and urine tests occurred.
Micronutrients showed global benefit over placebo by blinded clinician rating, but not by parent-report CASI-5 composite rating in a population with ADHD and irritability. They showed greater height growth. They were well tolerated, and the majority of participants adhered to the number of capsules prescribed.
With 54% of participants in the micronutrient group rated as treatment responders per blinded CGI-I, compared to 18% in the placebo group, the a priori primary outcome of change in CGI-I replicates the results of 2 previous RCTs, which also demonstrated a higher percentage of responders in the intervention groups via the CGI-I.
The micronutrient treatment was both acceptable and well tolerated, with a 93% retention rate and 74% of participants meeting per-protocol adherence criteria, despite a relatively large number of capsules taken throughout the day.
Eight weeks of taking broad-spectrum micronutrients containing all vitamins and known essential minerals demonstrated improved height growth compared to that observed with placebo, suggesting that micronutrients, rather than calories, may support height growth velocity.
This study addresses several concerns related to existing ADHD treatment, including the possibility of counteracting height suppression and treating associated irritable mood, emotional dysregulation, and aggression.
Based on blood and urine tests, and systematic adverse event reporting, micronutrients given at doses between the Recommended Dietary Allowance and Upper Tolerable Intake Level appear safe and may be developed into an alternative or complementary treatment for ADHD.
Source: Journal of the American Academy of Child & Adolescent Psychiatry DOI:https://doi.org/10.1016/j.jaac.2021.07.005