"Sunlight and temperature" may influence course of bipolar disorder: Study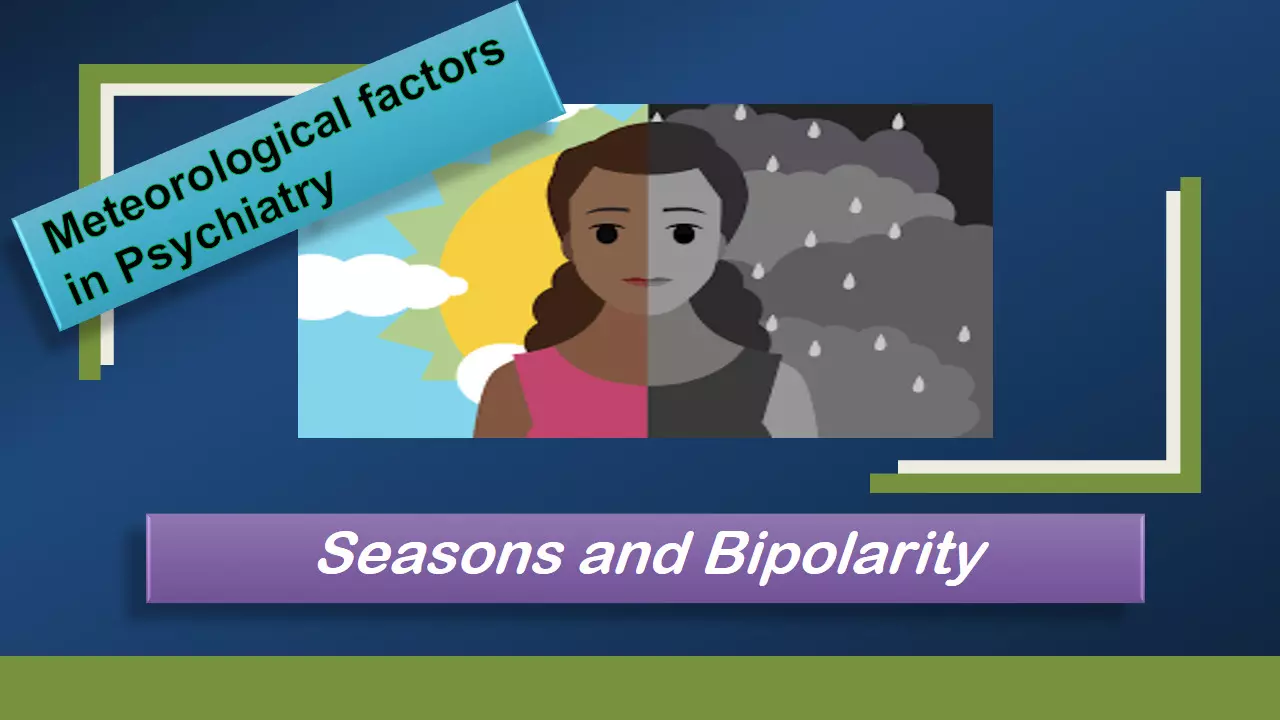 Bipolar disorder (BD) is a chronic mental disorder affecting mood regulation and characterized by affective episodes (manic, hypomanic or depressive), alternating with periods of euthymia. A recent systematic review by Montes et al shows that meteorological variables may have an influence in the course of bipolar disorder, especially temperature and sunlight.
The prevalence of BD is estimated to be over 1% worldwide and has a great impact in quality of life and functioning and is one of the most relevant causes of disability. Patients with BD may have chronobiological and circadian rhythm disturbances even when they are euthymic, higher risk of recurrence when travelling between different meridians due to jet lag or abnormalities in ACTH and cortisol secretion.
The aim of the present review was to summarise the evidence available on the influence of different meteorological variables on the clinical course of BD.
Following PRISMA (Preferred Reporting Items for Systematic Reviews and MetaAnalyses) guidelines, the main electronic medical databases were searched in February 2020, and studies were screened based on the eligibility criteria. 24 studies were selected for qualitative synthesis. Most of them were observational retrospective studies based in medical records.
It was found that, sunlight and temperature are the variables that show more impact in clinical outcomes such as hospital admissions or mood changes in BD. Concerning sunlight, results of different studies consistently suggested that higher exposure to sunlight would increase mania rates. However, impact on depression was less clear: while one article found that higher exposure to sunlight was associated with admissions for bipolar depression, other article found that higher exposure improved recovery in patients admitted for bipolar depression. This study is congruent with previous findings suggesting that light therapy would improve bipolar depression or other patients with depression
Higher temperature appears to increase the risk of a manic or depressive episode and even suicidal ideation, which has been previously suggested in other studies. Regarding other meteorological variables, the associations found were not consistent, despite being of interests, such as rainfall and humidity.
Several neurobiological mechanisms are likely to be involved in the relationship between weather and mood. The role of melatonin and some monoaminergic neurotransmitters, mainly serotonin and dopamine deserve consideration. It has been observed that seasons and meteorological variables may have an impact in dopamine and serotonin levels.
Sunlight tends to increase serotonin levels, which could be associated with higher mania rates and improvement in depressive episodes suggested by this review. Furthermore, temperature and humidity could worsen quality of sleep. These findings suggest that sleep disturbances might be associated with a common pathway between meteorological variables and mood in BD.
It can thus be concluded that meteorological variables seem to have an influence in the course of bipolar disorder, especially temperature and sunlight, although further studies are needed to clarify this possible relationship.
Source: European Psychiatry: https://doi.org/10.1016/j.ejpsy.2021.03.002