UK COVID variant had 23 mutations in just months- Is it a cause of concern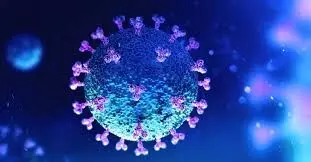 A new SARS-CoV-2 variant has been in the news since 14 December 2020, when the authorities of the United Kingdom of Great Britain and Northern Ireland reported to WHO about its identification through viral sequencing. The variant has been referred to as SARS-CoV-2 VUI 202012/01 (Variant Under Investigation, year 2020, month 12, variant 01).

The new SARS-CoV-2 strain circulating in the United Kingdom has fuelled worries about recent surges that have swamped hospitals and whether it can thwart currently authorized vaccines.

Initial analysis has indicated that the variant spreads more rapidly between people. Investigations are ongoing to determine if this variant is associated with any changes in the severity of symptoms, antibody response or vaccine efficacy.
The reason for concern is that the variant has developed 23 mutations in a matter of months, say top US experts.
According to WHO report, the variant has caused upwards of 50% of COVID-19 cases from Oct 5 and Dec 13 in the UK, mostly in people younger than 60 years. A total of 1108 cases infected with SARS-CoV-2 VUI 202012/01 have been detected in the United Kingdom as of 13 December 2020.
The variant was picked up as part of an epidemiological and virological investigation initiated earlier in December 2020 following an unexpected rise in COVID-19 cases in South East England.It was characterized by a more than three-fold increase in the 14-day case notification rate from epidemiological week 41 to week 50 (5 October to 13 December 2020).
The variant is defined by the presence of a range of 14 mutations resulting in amino acid changes and three deletions. Some of these mutations may influence the transmissibility of the virus in humans.
Preliminary reports by the United Kingdom are that this variant is more transmissible than previous circulating viruses, with an estimated increase of between 40% and 70% in transmissibility (adding 0.4 to the basic reproduction number R0, bringing it to a range of 1.5 to 1.7). This suggests that it is much more contagious than the previous "wild type" strain.
Laboratory studies are ongoing to determine whether these variant viruses have different biological properties or alter vaccine efficacy. There is not enough information at present to determine if this variant is associated with any change in severity of clinical disease, antibody response or vaccine efficacy.
All viruses including SARS-CoV-2 are known to change over time but most of these mutations are not of direct benefit to the virus or may have a detrimental effect on its propagation. Further laboratory investigations are required to more fully understand the impact of specific mutation on viral properties and the effectiveness of diagnostics, therapeutics and vaccines. These investigations are complex and require time and collaboration amongst different research groups.
Further epidemiological and laboratory-based studies are rapidly required to understand the implications of these viruses in terms of available SARS-CoV-2 clinical presentation, diagnosis, treatment and vaccine development.
WHO advises that further epidemiological and virological studies be conducted to understand the specific mutations described by the United Kingdom and other countries to further investigate any changes in the function of the virus in terms of infectivity and pathogenicity. WHO advises all countries to increase the routine sequencing of SARS-CoV-2 viruses where possible, and sharing of sequence data internationally, in particular, to report if the same mutations of concern are found.
As per WHO guidance, all countries need to assess their level of local transmission and apply appropriate prevention and control activities including adapting public health and social measures.
WHO recommends that countries take a risk-based approach. National authorities are encouraged to publish their risk assessment methodology and the list of departure countries to which restrictions apply; and these should be updated regularly. In all circumstances, essential travel (e.g., emergency responders; providers of public health technical support; critical personnel in transport and security sector such as seafarers; repatriations; and cargo transport for essential supplies such as food, medicines, and fuel) identified by countries should always be prioritized and facilitated.
Source : WHO