Surgical treatment better than CPAP in Sleep Apnea: JAMA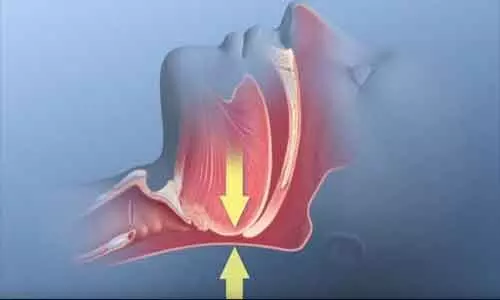 Stanford, California: Obstructive sleep apnea (OSA) patients treated surgically had a lower rate of systemic complications compared with those treated with CPAP, find a recent study. The findings of the study, published in the journal JAMA Otolaryngology - Head and Neck Surgery, suggest that surgery should constitute early treatment in patients at high risk of non adherence of CPAP or CPAP failure.

OSA is associated with cardiovascular, metabolic, psychiatric, and neurocognitive comorbidities as well as overall decreased survival. When considering only the Apnea Hypopnea Index as the treatment end point, the efficacy of surgical treatments for OSA is variable. However, only a few studies have shown an association between these procedures and improved clinically relevant outcomes such as cardiovascular, endocrine, and neurological sequelae of OSA. To fill this knowledge gap, Badr Ibrahim, Stanford University School of Medicine, Stanford Hospital and Clinics, Stanford, California, and colleagues evaluated the association of surgery for OSA with clinically relevant outcomes.

For the study, the researchers used the Truven MarketScan Database from January 1, 2007, to December 31, 2015 for identification of all patients diagnosed with OSA who received a prescription of continuous positive airway pressure (CPAP). The patients were aged from 40 to 89 years and had at least 3 years of data on file.
The researchers identified a total of 54 224 patients including a cohort of 49 823 patients who received CPAP prescription alone and 4269 patients who underwent soft tissue surgery. The median follow-up time was 4.47 years after the index CPAP prescription.
The occurrence of endocrine, neurological, and cardiovascular complications were compared in patients who received CPAP alone and those who received surgery.
Key findings of the study include:
In the unadjusted model, soft tissue surgery was associated with decreased cardiovascular (hazard ratio [HR], 0.92), neurological (HR, 0.49), and endocrine (HR, 0.80) events.
This finding was maintained in the adjusted model (HR for cardiovascular events, 0.91; HR for neurological events, 0.67; HR for endocrine events, 0.82.
Skeletal surgery (n = 114) and concomitant skeletal and soft tissue surgery (n = 18) did not demonstrate significant differences in rates of development of systemic complications.
"In this cohort study, soft tissue surgery for OSA was associated with lower rates of development of neurological, cardiovascular, and endocrine systemic complications compared with CPAP prescription in a large convenience sample of the working insured US adult population," wrote the authors.

"These findings suggest that surgery should be part of the early treatment algorithm in patients at high risk of CPAP failure or nonadherence," they concluded.
The study titled, "Association of Systemic Diseases With Surgical Treatment for Obstructive Sleep Apnea Compared With Continuous Positive Airway Pressure," is published in the journal JAMA Otolaryngology - Head and Neck Surgery.
DOI: https://jamanetwork.com/journals/jamaotolaryngology/fullarticle/2775356
Source : JAMA Otolaryngology - Head and Neck Surgery