New York Study Shows Doxycycline Treatment effective in high-risk COVID patients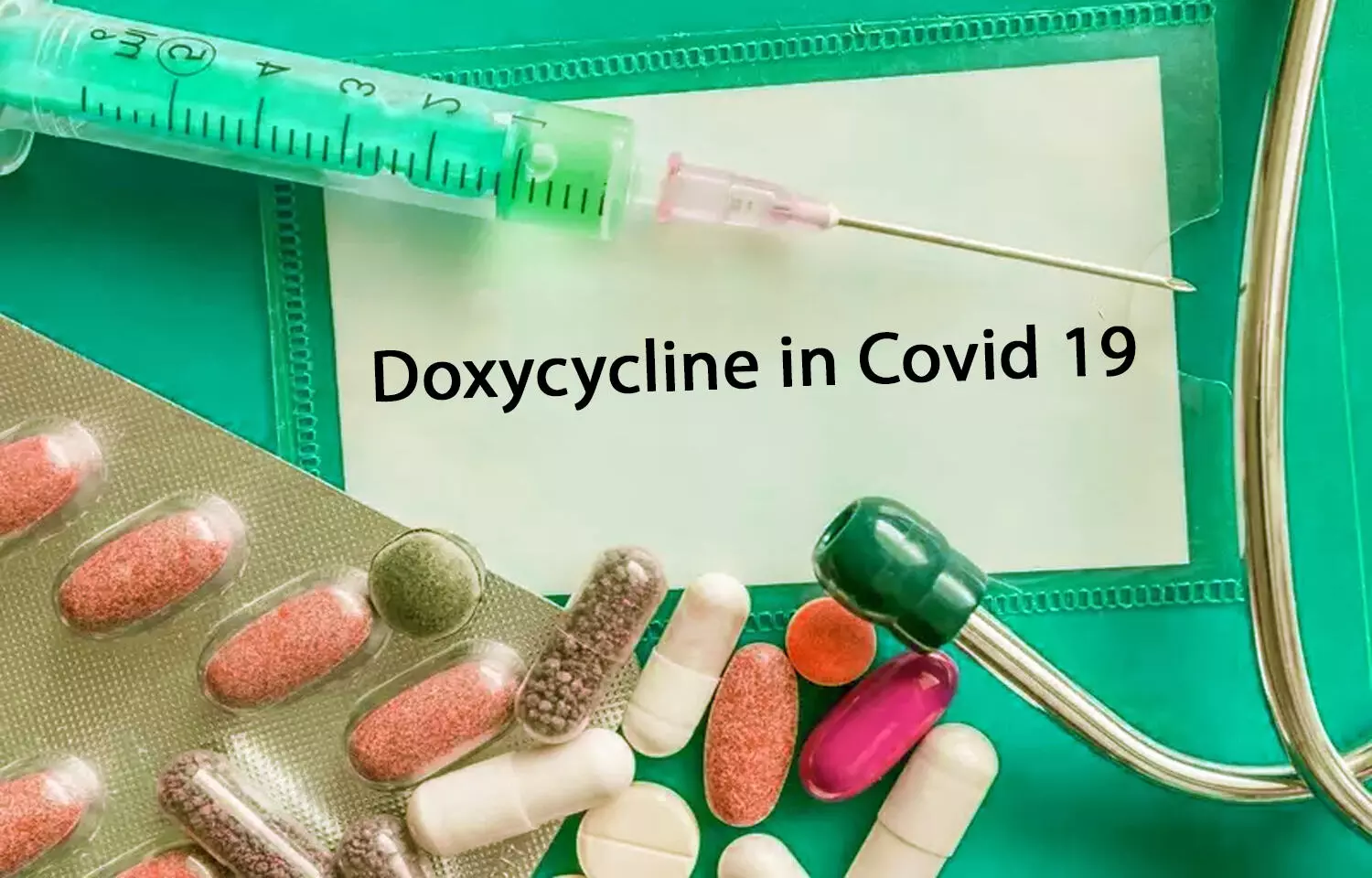 The SARS-CoV-2 infection continues to evolve with limited therapeutic options with the vaccine seemingly a few months still away. (1) In the meanwhile, there remains significant interest in repurposing existing, approved medications for the treatment of COVID-19. Amidst all the evidences that are clinically relevant, Doxycycline continues to remain a promising and potentially strong agent offering rational and safe management of COVID-19 patients.

Doxycycline possesses dual properties: both antiviral and anti-inflammatory which may attenuate the immune responses against viral infections. Clinical studies have concluded the efficacy of doxycycline against dengue and chikungunya viral infections. In addition, doxycycline may work on multiple pathways regulating viral replication. (2)
Doxycycline is well known to inhibit metalloproteinases (MMPs), specifically MMP-9, which is likely critical for the initial interaction of the virus into the host cell. Besides, Doxycycline inhibits interleukin (IL)-6 – together both IL-6 and MMPs are key regulators of the 'cytokine storm' often associated with severe viral pneumonitis.
Low, non-antimicrobial doses of doxycycline have been found in vivo studies to inhibit expression of extracellular matrix metalloproteinase inducer (EMMPRIN) (3) which may be a necessary entry of SARS-CoV-2 into T lymphocytes. (4)
Early Treatment with Doxycycline in High-Risk COVID-19 Patients – The New York Study
A very recently published retrospective study aimed to assess clinical outcomes in high-risk COVID- 19 patients with moderate to severe symptoms after early intervention with Doxycycline.
The study population included 89 high-risk patients diagnosed with COVID-19. These patients were residents of long-term care facilities, with a median age of 78 years (43- 101 years), who developed a sudden onset of fever, cough, shortness of breath (SOB), and hypoxia.
Majority of these patients had co-morbidities: 70% had hypertension, 34% had diabetes, 46% had Coronary artery disease (CAD), 26% had congestive heart failure and 42% were obese.
All patients diagnosed with COVID-19 received Doxycycline and regular standard of care. Doxycycline was administered 100 mg orally or intravenously for seven days along with the regular standard of care.
The results were indicative of significantly improved clinical outcomes: Eighty-five percent (85%) of patients showed clinical recovery that was defined as resolution of fever (average 3.7 days), resolution of SOB (average 4.2 days), and improvement of oxygen saturation/pulse oximetry (POX) with an average of 84% before treatment and an average of 95% after treatment.
Within 10 days of symptom onset, 3% of patients (n=3) required transfer to the hospital due to clinical deterioration and death occurred in 11% (n=10) of patients.
Early treatment with Doxycycline in high-risk patients with moderate to severe COVID-19 infections in non-hospital settings, such as long-term care facilities (LTCFs), led to early clinical recovery, reduced hospitalization, and mortality
Doxycycline - Promising Efficacy and Optimal Safety
Doxycycline is a lipophilic agent and is capable of penetration into the alveolar epithelium. (5) Chemically modified tetracyclines (CMTs) can also induce apoptosis of mast cells (6). The drug downregulates inflammatory markers demonstrated to have a role in COVID-19 pathophysiology. Doxycycline is known to downregulate the expression of dipeptidyl peptidase-4 (DPP4) through the inhibition of the Nuclear Factor kappa- B (NF-Kb) pathway (7), hampering the virus's ability to enter cells and subsequently reducing the viral load.
Along with its anti-inflammatory and immunomodulatory properties, Doxycycline is also considered to be cardioprotective. Following myocardial injury during reperfusion, matrix metalloproteinases-2 (MMP-2) are released. Doxycycline's inhibition of this MMP-2 pathway supports to rescue left ventricular function (8). As a result, in patients with acute ST-segment elevation myocardial infarction (STEMI) and left ventricular dysfunction, Doxycycline could reduce undesirable left ventricular remodeling (9). These cardioprotective characteristics of Doxycycline may help to improve clinical recovery in COVID-19 patients with acute myocardial injury.
Global Recommendations for Doxycycline
NICE UK guideline - Antibiotics for pneumonia in adults in hospital during COVID-19 (10) Doxycycline is considered one of the empirical choices of oral antibiotics:
Doxycycline in COVID 19 - Scientific Rationale
• For moderate to severe pneumonia in adults (>18 years) with suspected Community-Acquired Pneumonia (CAP)
• For non-severe pneumonia in adults (>18 years) with suspected Hospital Acquired Pneumonia (HAP)
Massachusetts General Hospital (MGH) COVID-19 Treatment Guidance (11)
If empirical antibiotics are indicated, the recommendation is for:
• Doxycycline 100 mg PO BID x 5 days or Azithromycin 500 mg PO x 1 then 250 mg PO daily for 4 days along with Ceftriaxone 1 gm IV daily.
• For nonpregnant patients, doxycycline is preferred over azithromycin.
Final Thoughts
As cited in one of the most recent articles which published the first set of four case series on benefits of doxycycline in high-risk, symptomatic, COVID-19 patients, with known pulmonary disease, treated with doxycycline and led to subsequent rapid clinical improvement, thus makes 'it an attractive candidate as a repurposed drug in the treatment of COVID-19 infection, with an established safety profile, strong preclinical rationale, and compelling initial clinical experience'. (12)
The above article has been published by Medical Dialogues under the MD Brand Connect Initiative. For more details on Doxycycline, click HERE
References
Adapted from:
1 Centers for Disease Control and Prevention. Coronavirus disease 2019 (COVID-19) treatment guidelines, https://www.cdc.gov/coronavirus/2019- ncov/need-extra-precautions/people-at-higher-risk. html (Accessed 21 May 2020).
2 Griffin MO, Fricovsky E, Ceballos G, et al. Tetracyclines: a pleiotropic family of compounds with promising therapeutic properties. Review of the literature. Am J Physiol Cell Physiol 2010; 299: C539–C548
3 Emingil G, Atilla G, Sorsa T, et al. The effect of adjunctive subantimicrobial dose doxycycline therapy on GCF EMMPRIN levels in chronic periodontitis. J Periodontol 2008; 79: 469–476.
4 Wang X, Xu W, Hu G, et al. SARS-CoV-2 infects T lymphocytes through its spike proteinmediated membrane fusion. Cell Mol Immunol. Epub ahead of print 7 April 2020. DOI: 10.1038/ s41423-020-0424-9.
5 Griffin MO, Fricovsky E, Ceballos G, Villarreal F: Tetracyclines: a pleitropic family of compounds with promising therapeutic properties. Review of the literature. Am J Physiol Cell Physiol. 2010, 299:C539-548. 10.1152/ajpcell.00047.2010
6 Sandler C, Nurmi K, Lindstedt KA, Sorsa T, Golub LM, Kovanen PT, Eklund KK: Chemically modified tetracyclines induce apoptosis in cultured mast cells. Int Immunopharmacol. 2005, 5:1611-1621. 10.1016/j.intimp.2005.04.013
7 Choi B, Lee S, Kim SM, et al.: Dipeptidyl peptidase-4 induces aortic valve calcification by inhibiting insulin-like growth factor-1 signaling in valvular interstitial cells. Circulation. 2017, 16:1935-1950. 10.1161/CIRCULATIONAHA.116.024270
8 Villarreal FJ, Griffin M, Omens J, Dillmann W, Nguyen J, Covell J: Early short-term treatment with doxycycline modulates postinfarction left ventricular remodeling. Circulation. 2003, 108:1487-1492. 10.1161/01.CIR.0000089090.05757.34
9 Cerisano G, Buonamici P, Valenti R, et al.: Early short-term doxycycline therapy in patients with acute myocardial infarction and left ventricular dysfunction to prevent the ominous progression to adverse remodelling: the TIPTOP trial. Eur Heart J. 2014, 35:184-191. 10.1093/eurheartj/eht420
10 COVID-19 rapid guideline: antibiotics for pneumonia in adults in hospital, NICE guideline Published: 1 May 2020 www.nice.org.uk/guidance/ng173
11 Massachusetts General Hospital (MGH) COVID-19 Treatment Guidance, July 2020, Version 6.1 7/1/2020
12 Yates PA, Newman SA, Oshry LJ, Glassman RH, Leone AM, Reichel E. Doxycycline treatment of high-riskCOVID-19-positive patients with comorbid pulmonary disease. Ther Adv Respir Dis. 2020;14:1753466620951053. doi:10.1177/1753466620951053