Quick Review: Effectiveness of REGEN-COV antibody cocktail against B.1.617.2 (delta) variant of SARS-CoV-2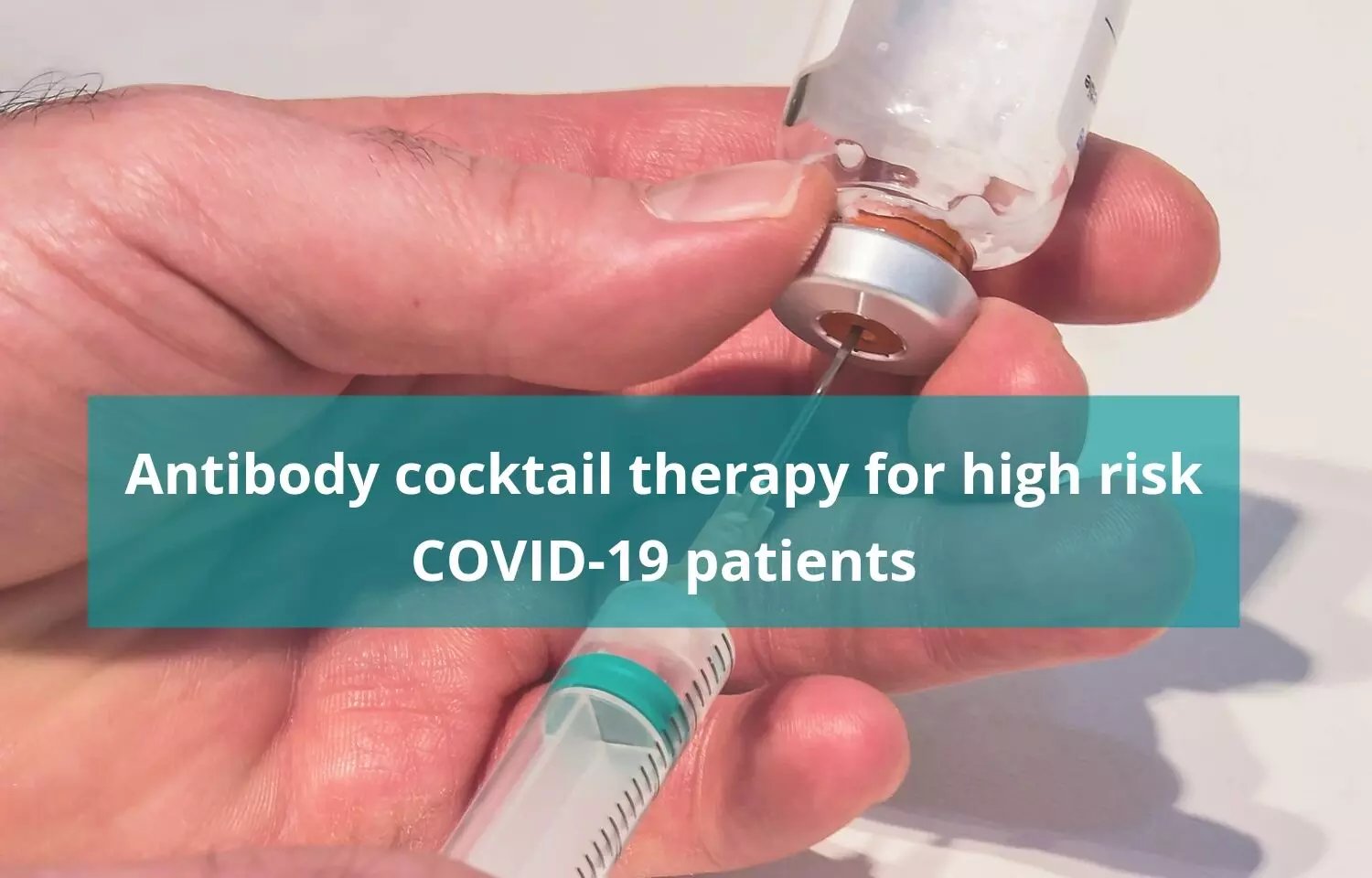 Casirivimab plus imdevimab antibody cocktail (REGEN-COV) has been shown to reduce viral load and prevent symptomatic disease in household contacts of infected people. The objective of this study was to assess the effectiveness of cocktail antibody therapy in high-risk SARS-CoV-2-positive patients.
A single-center prospective observational cohort study included 285 high-risk, RT-PCR-positive SARS-CoV-2 patients, presenting within 7 days from the onset of symptoms. Patients were assigned in a nonrandomized manner to either cocktail group (monoclonal antibody [mAb]; n = 208), which received casirivimab and imdevimab (600 mg each/100 ml saline), or the standard-of-care (SOC; n = 78) group, which received remdesivir (200 mg on Day 1 and 100 mg/day from Days 2–5), based on their choice of therapy. The primary aim was to assess the amount of time taken for resolution of symptoms and change in viral load from baseline through Day 7 (interpreted by Ct values). The results are as followed;
The mean age (56.46 ± 15.77 vs. 53.51 ± 15 years; p = 0.15), sex (male; 56.52% vs. 57.69%), majority (>98.0%) of patients harbored delta variant (B.1.617.2) comparable to the prevalence in community.
The number of symptomatic individuals on Day 7 was significantly lower in the cocktail group than in the SOC group (23/108 [21.30%] vs. 39/78 [50.0%]; p = 0.0001).
Fewer patients tested positive by RT-PCR on Day 7 in cocktail group than in SOC group (28/108 [25.0%] vs. 26/50 [52.0%]; p = 0.0001).
Among the inflammatory markers, serum ferritin levels (p = 0.027) and absolute neutrophil counts (p = 0.020) were significantly increased on Day 7 in the SOC group.
A greater increase (1.5 vs. 1.27-fold) in absolute lymphocyte counts was also noted in the cocktail group.
No mortality/ progression to severe disease was seen in either of the groups on Day 28
Mean Ct values in those who tested positive were not significantly different between the groups on Day 7, the increase in Ct values was significantly higher in the cocktail group (p = 0.003 [RDRP gene]; p = 0.006 [N gene]).
REGEN-COV antibody cocktail treatment and implications
• Faster resolution of symptoms by Day 3 - indicates an enhanced benefit against worsening in high-risk patients.
• Significantly lower RT-PCR positivity on Day 7 and higher increase in Ct values – reveal enhanced viral clearance.
• Lower serum ferritin and neutrophil counts but higher lymphocyte counts on Day 7 - improved inflammatory profile in the cocktail group.
• Ability to block the entry of delta variant - reducing the viral load.
REGEN-COV antibody cocktail-treated high-risk SARS-CoV-2 patients infected with the delta variant showed faster resolution of symptoms along with reduced viral loads.
Reference:
Kumar V J, Banu S, Sasikala M, Parsa KVL, Sowpati DT, Yadav R, Tallapaka KB, Siva AB, Vishnubhotla R, Rao GV, Reddy DN. Effectiveness of REGEN-COV antibody cocktail against the B.1.617.2 (delta) variant of SARS-CoV-2: A cohort study. J Intern Med. 2021 Nov 1. doi: 10.1111/joim.13408. Epub ahead of print.
For more details about the prescribing information, click here
Disclaimer: This article has been published under MD Brand Connect Initiative.
Disclaimer: This content and information provided is intended for update strictlyforRegistered MedicalPractitioners/ Physicians treating Covid 19 only. The information mentioned herein is not intended nor implied to be a substitute for professional medical advice. Any advice regarding the management of any medical condition is totally in the discretion of doctor (Registered Medical Practitioner)/ physician treating Covid 19 patients. Prescription of the drug is the prerogative of doctors (Registered Medical Practitioner/ Physician treating Covid 19) at his /her sole discretion. Physicians treating Covid 19 patients must refer to the fullprescribing information of the product for use of product. Copying, reproduction, circulation of the information published here in any form or by any means either mechanically/ print or electronically without prior consent is strictly prohibited. Any unauthorised person having possession of this document should discard the same or inform/ notify/ return to Cipla Ltd. To report any adverse events/special situation with Cipla medicinal products email at drugsafety@cipla.com. or via the national Pharmacovigilance Programme of India by calling on 1800267 7779 (Cipla number) or you can report to PvPI on 1800 180 3024. By reporting side effects, you can help provide more information on the safetyofthis product. For complete prescribing information, please login www.ciplamed.com. Dr Kamal Kant Kohli-MBBS, DTCD- a chest specialist with more than 30 years of practice and a flair for writing clinical articles, Dr Kamal Kant Kohli joined Medical Dialogues as a Chief Editor of Medical News. Besides writing articles, as an editor, he proofreads and verifies all the medical content published on Medical Dialogues including those coming from journals, studies,medical conferences,guidelines etc. Before Joining Medical Dialogues, he has served at important positions in the medical industry in India including as the Hony. Secretary of the Delhi Medical Association as well as the chairman of Anti-Quackery Committee in Delhi and worked with other Medical Councils in India. Email: editorial@medicaldialogues.in. Contact no. 011-43720751