Understanding the scope of Faropenem in Lower Respiratory Tract Infections(LRTIs)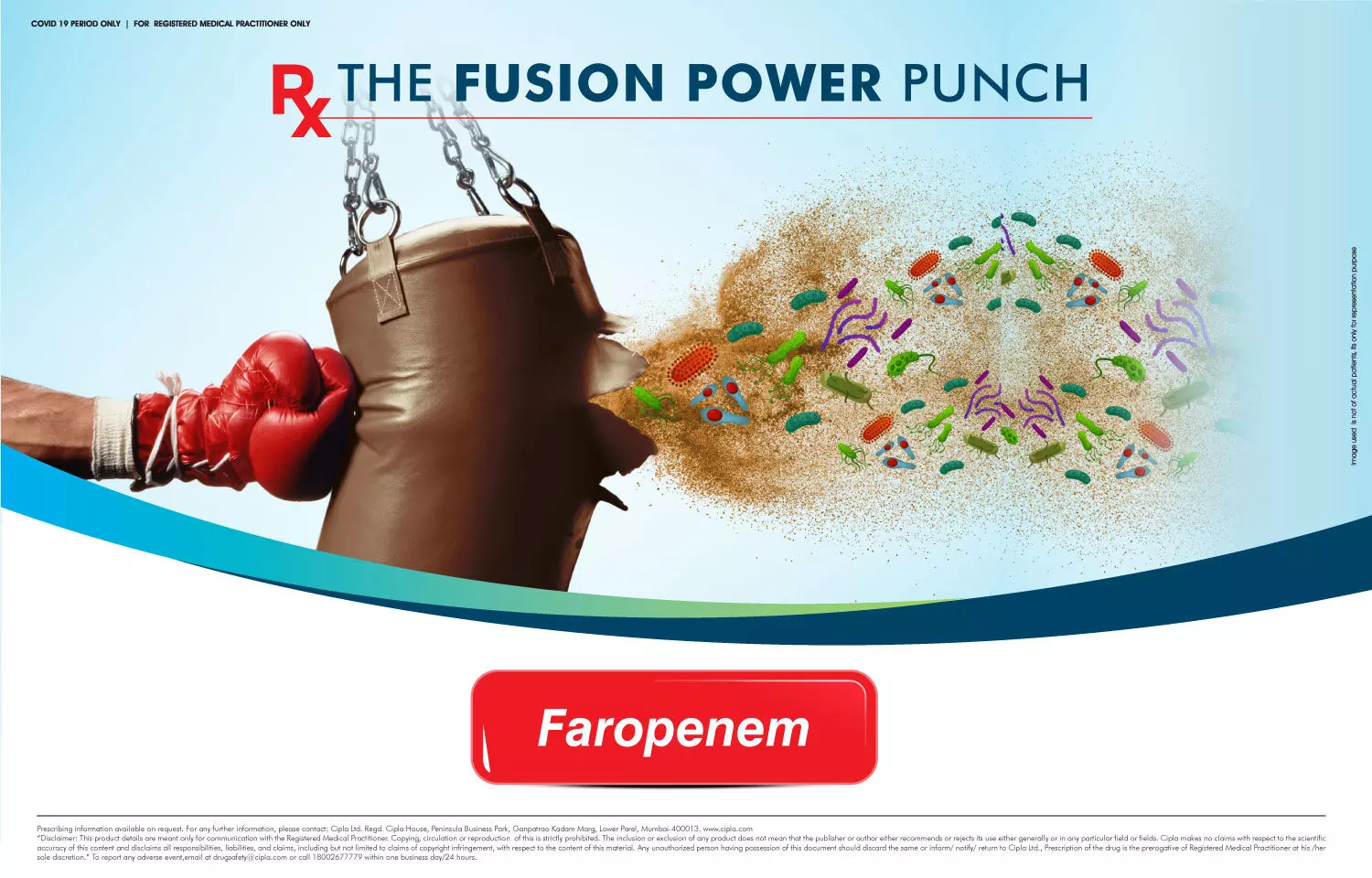 Lower Respiratory Infections(LRIs): Complexities in the Indian Context
In India, the burden of lower respiratory tract infections (LRTIs) is substantial, more so among the elderly population. The reported incidence of LRTIs in older adults is found to be 248 per 1000 person-years, while LRTI-related hospitalizations account for 12 per 1000 person-years. Patients with pre-existing chronic bronchitis are five times more likely to develop LRTI. Patients aged > 75 years and poor socio-economic status are additional major risk factors associated with increased risk of LRTI. Viral etiology could be detected in only about 11% of LRTI episodes; the commonest being influenza, underlying the likely burden of predominant bacterial as primary or precipitating causes. Notably, the 30-day all-cause mortality after an LRTI episode is recorded as up to 3.5% in elderly Indian patients. (1)
Such evidence points towards the need for 'appropriate treatment of lower respiratory infections among specific vulnerable Indian patients. The scientific evidence and clinical utility supporting the potential use of Faropenem are reviewed.
Faropenem: Unique Fusion Chemical Structure Leading to Better Bacteriological Coverage
Faropenem is a novel oral penem with a structure unique from the rest of beta-lactams including carbapenems. Faropenem contains an unsaturated thiazole ring, making it a structural hybrid between penicillin and cephalosporin. Importantly, the faropenem is resistant to the effects of many bacterial beta-lactamases. This microbiological property is likely attributed to its unique chemical structure i.e. the presence of 1-(R)-hydroxyethyl group at carbon-6 (C6) of its bicyclic molecule. (2) Additionally, faropenem is characterized by potent penicillin-binding protein (PCP) activity. The antibacterial spectrum of faropenem includes gram-positive, gram-negative, and some anaerobic bacteria. Faropenem typically shows a high affinity for PBPs making it a relevant consideration in the management of complex respiratory infections. (3)
Acceptance & Opportunity for Faropenem: The Most Prescribed Penem in India
India has reported one of the highest rates of extended-spectrum beta-lactamase (ESBL)-producing Enterobacteriaceae organisms in the world (4). Carbapenems are a reliable treatment option for serious infections caused by ESBL-producing organisms but the need for intravenous administration and high costs make them less feasible for use in outpatient therapy (5).In India, an alternative that is often considered by clinicians is faropenem, an oral antibiotic that belongs to the "penems" class of beta-lactam antibiotics. Faropenem has broad antimicrobial activity and is active against aerobic gram-positive, gram-negative, and anaerobic bacteria. In addition, the faropenem is resistant to TEM, SHV, and CTXM types of ESBLs. Faropenem is approved for the treatment of respiratory tract infections in India. As cited in an article published by Sumantha G et al, more than 18 million units of Faropenem have been utilized until the last decade in Indian settings. (6)
Antibiotic Resistance in India: Drivers are Beyond Antibiotic Overuse
The high burden of infectious diseases, antibiotic use for growth promotion in livestock, and low awareness of antibiotic resistance notably together form major contributors to antibiotic resistance in India. Initiatives to prevent antibiotic resistance in India include surveillance of antibiotic resistance, infection prevention, and control, and improving the use of antibiotics Improving the use of antibiotics practically implies appropriate use of antibiotics, in terms of selection and time of its use, striking the clinical balance between abuse and lack of its use. (7)
Faropenem: Justified Consideration in Lower Respiratory Infections
Several surveillance studies evaluating community-acquired respiratory pathogens have pointed out resistance to beta-lactams, azithromycin, and trimethoprim-sulfamethoxazole (SXT) was higher among S. pneumoniae isolates in humans. Beta-Lactamase production rates among H. influenzae and M. catarrhalis isolates were 27.4 and 91.6%, respectively. Faropenem minimum inhibitory concentration (MICs) at which 90% of isolates are inhibited were 0.5 mcg/ml for S. pneumoniae, 1 mcg/ml for H. influenzae, and 0.5 mcg/ml for M. catarrhalis, suggesting that faropenem shows promise as a treatment option for respiratory infections caused by contemporary resistant phenotypes. (8) Time kill experiments conducted at 2, 4, and 10 times the MICs, carried out on six representative isolates of H. influenzae and M. catarrhalis (4 beta-lactamase-producing & 2 non-producing strains) revealed an excellent bactericidal activity of faropenem. (9) F Wall et al, published a study comparing the in vitro activity of Faropenem against S. pneumoniae, M. catarrhalis, and H. influenzae with amoxicillin, amoxiclav, clarithromycin, levofloxacin, and ciprofloxacin activity and inferred that faropenem has significant activity (MIC90 <1 mg/l) against respiratory tract infections' pathogens such as S. pneumoniae, M. catarrhalis and H. influenza. (3)
Faropenem in Lower Respiratory Infections: Clinical Review
A respiratory scientific forum report published Journal of Antimicrobial Chemotherapy by Glenn S. Tillotson et al, have cited in the testimony of Faropenem that it had excellent activity against respiratory isolates, notably S. pneumoniae, was resistant to degradation by almost all b-lactamases, with a high oral bioavailability of up to 84%. Clinical efficacy in Community-Acquired Pneumonia (CAP) was 86% to 91% and this agent clearly offers a potential further oral option for the management of Respiratory Tract Infections (RTIs). (10)
Faropenem – Activity Against Common and Complex Respiratory Pathogens (added as per scientific data traceable)
Faropenem has demonstrated excellent activity against common respiratory pathogens, many aerobic gram-positive organisms, and anaerobic pathogens. including penicillin-sensitive,-intermediate, and -resistant strains of S. pneumonia (11). Furthermore, Faropenem has also demonstrated useful bactericidal activity against Haemophillus influenzae and Moraxella catarrhalis (12).
Faropenem had invitro demonstrated considerable inhibitory activities against 56 strains of rapidly growing mycobacteria, including Mycobacterium peregrinum, Mycobacterium chelonae, Mycobacterium fortuitum, and Mycobacterium abscessus. Thus, faropenem has the potential to be used as an adjunctive drug with clarithromycin for the treatment of infection with rapidly growing mycobacteria. Case reports have reported favorable clinical and microbiological responses to faropenem treatment. (13)
Clinical Summary
Lower respiratory infections are a significant burden in the Indian population, especially with increased hospitalization and mortality associated with geriatric patients. (1)In the Indian context, there may be logistic and cost implications for the patients with timely initiation of parenteral antibiotics (6). Faropenem, by virtue of its unique fusion structure between penicillin and cephalosorin, allows resistance to the effects of many bacterial beta-lactamases (2) and offers an antibacterial spectrum against gram-positive, gram-negative, and certain anaerobic bacteria (3). Faropenem is a unique oral penem allowing an easy oral route of administration, and may play a role in the treatment of outpatient respiratory tract infections. It may also be of clinical utility in follow-up treatment after parenteral drug administration following hospital discharge in several complex respiratory infections. (9)
References:
1. Kumar R, Dar L, Amarchand R, Saha S, Lafond KE, Purakayastha DR, Kumar R, Choudekar A, Gopal G, Dhakad S, Narayan VV, Wahi A, Chhokar R, Lindstrom S, Whitaker B, Choudhary A, Dey AB, Krishnan A. Incidence, risk factors, and viral etiology of community-acquired acute lower respiratory tract infection among older adults in rural north India. J Glob Health. 2021 Apr 3;11:04027. doi: 10.7189/jogh.11.04027. PMID: 33880179; PMCID: PMC8035979.
2. Jeremy M. T. Hamilton-Miller, Chemical and Microbiologic Aspects of Penems, a Distinct Class of b-Lactams: Focus on Faropenem, Pharmacotherapy 2003;23(11):1497–1507
3. Walsh F, Amyes AK, Amyes SG. The in vitro effects of faropenem on lower respiratory tract pathogens isolated in the United Kingdom. Int J Antimicrob Agents. 2003 Jun;21(6):581-4. doi: 10.1016/s0924-8579(03)00049-9. PMID: 12791474.
4. Gelband H M-PM, Pant S, Gandra S, Levinson J, Barter D, White A, Laxminarayan R. The State of the World's Antibiotics, 2015: Center for Disease Dynamics, Economics & Policy, 2015
5. Paterson DL, Bonomo RA. Extended-spectrum beta-lactamases: a clinical update. Clinical microbiology reviews 2005; 18(4): 657-86
6. Sumanth Gandra, Faropenem Consumption is Increasing in India, Clinical Infectious Diseases 2016, 1-6
7. Manish K, Antibiotic resistance and its containment in India, BMJ 358(1):25-30
8. Critchley IA, Brown SD, Traczewski MM, Tillotson GS, Janjic N. National and regional assessment of antimicrobial resistance among community-acquired respiratory tract pathogens identified in a 2005-2006 U.S. Faropenem surveillance study. Antimicrob Agents Chemother. 2007 Dec;51(12):4382-9. doi: 10.1128/AAC.00971-07. Epub 2007 Oct 1. PMID: 17908940; PMCID: PMC2168020.
9. Marchese A, Debbia EA, Bryskier A, Schito GC. Antimicrobial activity of faropenem, a new oral penem, against lower respiratory tract pathogens. Clin Microbiol Infect. 1999 May;5(5):282-287. doi: 10.1111/j.1469-0691.1999.tb00142.x. PMID: 11856268.
10. Tillotson GS, Ball P. Meeting report: Fourth Forum on Respiratory Tract Infections, Sitges, Spain, 8 11 February 2007. J Antimicrob Chemother. 2007 Sep;60(3):464-9. doi: 10.1093/jac/dkm216. Epub 2007 Jun 26. PMID: 17595283.
11. Gettig JP, Crank CW, Philbrick AH. Faropenem medoxomil. Ann Pharmacother. 2008 Jan;42(1):80-90. doi: 10.1345/aph.1G232. Epub 2007 Dec 19. PMID: 18094341.
12. Mignon P et al, In vitro activity of Faropenem against respiratory pathogens, J Antimicrob Chemother 2002;49:575-577
13. Tanaka E, Kimoto T, Tsuyuguchi K, Suzuki K, Amitani R. Successful treatment with faropenem and clarithromycin of pulmonary Mycobacterium abscessus infection. J Infect Chemother. 2002 Sep;8(3):252-5. doi: 10.1007/s10156-002-0176-8. PMID: 12373490. Dr Kamal Kant Kohli-MBBS, DTCD- a chest specialist with more than 30 years of practice and a flair for writing clinical articles, Dr Kamal Kant Kohli joined Medical Dialogues as a Chief Editor of Medical News. Besides writing articles, as an editor, he proofreads and verifies all the medical content published on Medical Dialogues including those coming from journals, studies,medical conferences,guidelines etc. Before Joining Medical Dialogues, he has served at important positions in the medical industry in India including as the Hony. Secretary of the Delhi Medical Association as well as the chairman of Anti-Quackery Committee in Delhi and worked with other Medical Councils in India. Email: editorial@medicaldialogues.in. Contact no. 011-43720751