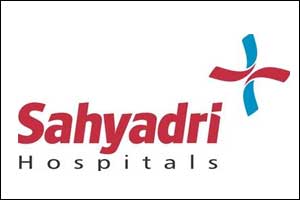 Pune: One of the leading chains of Multi-speciality Hospitals in Maharashtra, Sahyadri Hospitals is setting a new benchmark in healthcare with the opening of a new Hospital at Hadapsar, Pune. This new Sahyadri Super Speciality Hospital will have all clinical specialities under one roof. Sahyadri Hospitals which is Maharashtra's largest chain of Hospitals now has facilities at Deccan Gymkhana, Nagar Road, Kothrud, Bibwewadi, Kasba Peth and Hadapsar in Pune along with Nashik and Karad.
This ultra-modern hospital will have all clinical specialties under one roof including Cardiology, Critical Care Medicine, Emergency Medicine, Endocrinology, ENT, Gastroenterology, General Surgery, Internal Medicine, Medical Oncology & Hematology, mentioned Dr. Charudatta Apte, Leading Neuro Surgeon and Chairman Sahyadri Hospitals during a press conference held recently in the city.
Dr Jayashree Apte, Executive Director and Mr. Madhur Varma, Chief Executive Officer of Sahyadri Hospitals along with other officials were also present during the press conference.
In addition, the hospital will also provide Minimal Invasive(Laparoscopic) surgery, Neonatology, Nephrology, Neurology, Neurosurgery, Nutrition & Dietetics, Obstetrics & Gynecology, Ophthalmology, Orthopedics, Pediatric Surgery, Pediatrics, Physiotherapy and Rehabilitative Services, Pulmonology, Radiation Oncology, Surgical Gastroenterology, Surgical Oncology, Urology and Vascular Surgery.
The new state-of-the-art medical facility is unique with all super specialties under one roof, Superior infrastructure, Superior Care, Resting Lounge, Single point customer desk, Counselling rooms for patient families, Doctor's Lounge on every floor, Handpicked team, Modular Operation Theatres , Outpatient Department, Dedicated Health Check-up area , Daycare Surgery Unit, Endoscopy Suite, Intensive Care Unit, High Dependency Unit, Neonatal ICU, Labour Room, Cafeteria and Inpatient rooms and General Wards. Services include Pharmacy, Ambulance, Laboratory, Blood Storage, Emergency room, Cath lab, MRI, Digital X-ray, Ultrasound & Color Doppler, Echocardiography, EEG, EMG, Pathology Lab, Nuclear Medicine-PET CT .
Speaking on this occasion, Dr Charudatta Apte said, "Sahyadri Hospitals was set up in Pune in 1994 as Pune Institute of Neurology, it has been in the forefront for providing common people with world-class medical services and facilities. While India is fast catching up with advanced medical technologies, Pune has emerged as a hub for medical advancements with a rich pool of talented medical professionals, active organizations and world-class facilities. Sahyadri Hospitals has been a major contributor in making Pune a city with world-class medical facilities. Therefore the opening of our new hospital at Hadapsar is not only an important milestone for us but for the entire city."
Commenting on this development, Madhur Varma said, "For the first time in Pune, healthcare will witness combination of unmatched expertise, brilliant infrastructure and warmth. While conceptualizing the entire facility we have kept patients, doctors, medical staff and their flow of work and also the relatives of the patient who are an important part of the treatment process. Every little detail has been taken care of for the patients to feel at home. This tertiary care facility will have 150 beds, set up in densely populated surroundings of Magarapatta City, Amanora Township, Hadapsar, Kharadi, Kondhwa and Wagholi areas. Situated on Solapur highway, this new hospital will provide relatively easy access to patients from other towns and states."
Dr Jayashree Apte added, "Sahyadri Hospitals has always kept at par with medical advancement in India and across the world. With cutting-edge technologies, expert practitioners and skilled staff we have been able to get better clinical outcomes and has resulted in faster patient recovery. The new super speciality hospital will have all medical services under one roof and state-of-the-art set up will put Healthcare in Pune on the National Map."
0 comment(s) on Pune Gets a Super Speciality Hospital at Hadapsar