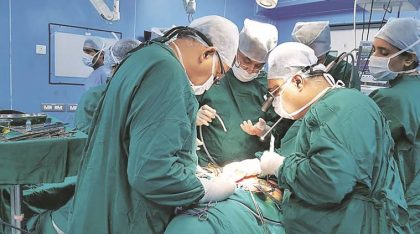 Pune: A team of doctors today successfully performed India's first uterus transplant surgery, in which uterus of a woman was transplanted in her 21-year-old daughter.
A team of 12 doctors, headed by Dr Shailesh Puntambekar, performed the surgery which started at 12 noon today and ended at 9.15 pm at Galaxy Care Laparoscopy Institute here.
The younger woman was born without uterus, Dr Puntambekar said.
 "The patient wanted to have her own baby and was not ready for adoption or surrogacy. Since they knew about the uterus transplant, they approached us and accepted the surgery option," he said.
Fortunately, her mother was found to be a medically suitable uterus donor for her.
The younger woman — the patient — is now under observation and will be kept in Intensive Care Unit for some days. Doctors are now constantly monitoring to see any signs of infection and possible organ rejection.If the surgery is successful, both the recipients will be able to conceive using in-vitro fertilisation (IVF) and have children
Dr Puntambekar said this was the first uterus or womb transplant in India.
The first successful uterine transplant was carried out in Sweden in 2013. Twenty-five such surgeries have been performed around the world so far.
1 comment(s) on Pune Hospital carries out first uterus transplant