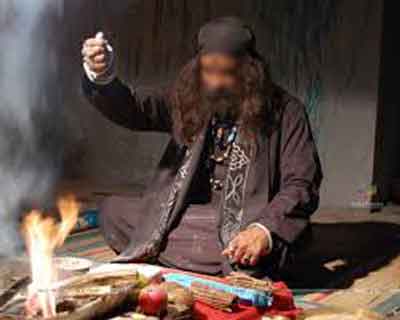 Pune: A senior gynaecologist is now facing backlash for allegedly inviting a tantrik to cure a 24-year-old patient, who had been admitted to the Intensive Care Unit in a critical condition. The patient, who had a tumour in her chest, died of multiple organ failures on Tuesday
A video of the 'godman' purportedly performing rituals on a 25-year-old woman patient in the intensive care unit of a reputed private hospital here went viral on social media drawing severe backlash from the public and the media. To add to the troubles of the attending gynaecologist, local activists have now filed a complaint against him with the local police.
T. Sandhya Sonawane, the woman, had approached Dr Satish Chavan, who runs a private hospital, to get treatment for a lump in her chest, one of her relatives told PTI.
"Dr Chavan advised a surgery to remove the lump and as per the advise, Sandhya underwent the surgery.However, her condition deteriorated and she was admitted to Deenanath Mangeshkar Hospital," he said. While Sandhya was in ICU, on March 11 Dr Chavan brought along a godman, who performed some rituals, the relative claimed.
"This man took out some items from his bag and waved them from her head to toe while chanting something. We didn't have any prior knowledge about it, so we recorded the whole incident on mobile," he added.
"Dr Chavan invited a tantrik to cure my sister. He performed various black magic tricks, like applying vermillion and chillies, and so on. When I questioned Dr Chavan, he told me that he had great faith in the tantrik and routinely takes help from him. Since I wanted my sister to recuperate, I did not say a word," the brother of the deceased, Mahesh Jagtap told Asian Age
Mr Jagtap added, "Earlier also, when my sister was admitted to his hospital, he postponed a procedure saying that the period from 6 to 8 pm was influenced by Rahu and was not a good time to perform surgery. All this is shocking. He could not save my sister."
The hospital management said its staff had no role in the entire episode.
"Neither the concerned doctor is associated with the hospital, nor any of our staff was involved in the entire episode," said an official from Deenanath Mangeshkar Hospital. Sandhya died of multiple organ failures on Monday, the hospital official said.
Rubbishing the claims, Dr Chavan told Asian Age: "After the patient was shifted to Mangeshkar Hospital, I would visit her regularly. During one such visit, I met a pundit who I knew at the hospital premises. I took him along to the ICU and that is all. Nothing was done." He added, "The family had requested me to get their bill at Mangeshkar Hospital reduced and I did that. However, today I received a call from them threatening to damage my hospital. I have asked for police protection.."
Members of the Maharashtra Andha-Shraddha Nirmulan Samiti (Maharashtra Superstition Eradication Committee) today approached the Alankar police station here and sought a case against the doctor under The Maharashtra Prevention and Eradication of Human Sacrifice and other Inhuman, Evil and Aghori Practises and Black Magic Act'."We are in the process of recording the statement of the deceased's brother.
As per the statement, a case will be registered," senior inspector Rekha Salunke of the police station said.
1 comment(s) on Pune: Senior Gynaecologist in trouble after Tantrik Performs Ritual in ICU