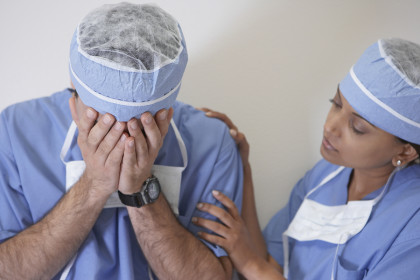 Punjab: Nurses in the Guru Gobind Singh Medical College and Hospital, Faridkot are demanding action against a doctor at the college.
The strike by the nurse's staff has entered the fifth day in protest of an alleged act of misbehavior by a doctor (from the neurology department) with a nurse working in the ICU of the hospital.
285 staff nurses have been part of the strike and this has almost crippled the hospital services. The hospital authorities are reported to have deployed nursing students of the university college, assigning them the nurse's staff duty in view of the situation.
A truce has been tried between the nurses and the doctor to reach a compromise on the matter. The medical authorities have been making this effort but at no avail.
As reported by HT, "It has been five days but I have not got any justice from the police and the hospital authorities. The doctor misbehaved with me on Friday on the issue of a missing monitor (LED). We want the doctor realise his mistake. Even as we have lodged a police complaint, no action has been taken," the complainant alleged.
"We also met the Faridkot sub- divisional magistrate (SDM) requesting him to hold an inquiry into the incident, but nothing has taken place so far," said Swaran Singh Sekhon, convener of the medical college employees' front.
"We have received a complaint from the woman. Since it is an internal matter of the medical college and the hospital authorities have formed a special committee to look into the matter, we are waiting for their inquiry report. Action will be taken accordingly," said Faridkot station house officer (SHO) Surjeet Singh.
0 comment(s) on Punjab: Alleged misbehavior of doctor leads to protest in Guru Gobind Singh Medical College