Punjab Guv inaugurates health check-up camp in Chandigarh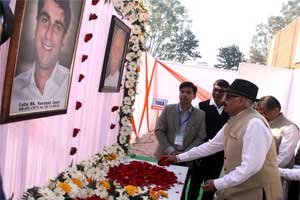 Chandigarh: The Punjab Governor and Administrator UT Chandigarh Sh. V. P. Singh Badnore inaugurated the 3rd Mega Health Check-Up Camp organised by the Joshi Foundation today at Chandigarh.
More than 10,000 patients were examined free and given treatment at the mega health check-up camp held by the Joshi Foundation at sector 15 Patel Market in association with the Heart Foundation, supported by PGIMER, Homeopathic College and Hospital, Bharat Vikas Parishad and Indian Red Cross Society turning the venue into a mini hospital.
The Governor while addressing the massive gathering after inaugurating the Camp said that it was the dream of the Prime Minister Sh. Narendra Modi to provide affordable and quality health care facilities to every nook and corner of the country thereby evolving a healthy India.  This Megal health checks up camp is a step forward in realising his dream of a healthy Nation.
Referring to the Ayushman Bharat, National Health Protection Mission launched by the Prime Minister, the Governor said that this scheme is not only providing health care facilities to approximately 50 crore beneficiaries but also extending an insurance cover to the family per year for secondary and tertiary care hospitalization.
The Governor appreciated the efforts of Mr Vineet Joshi, Chairman of Joshi Foundation, for putting up such an enormous camp in the memory of his late brother Sh. Navneet Joshi and his father Sh. Jai Ram Joshi, of involving everybody in this mammoth task of providing health care facilities.
The Governor took a round of the camp and visited different stalls represented by Allopath doctors, practitioners of Ayurveda, Yoga & Naturopathy, Unani, Siddha, Homeopathy, specialists in neurology, ophthalmology, orthopaedics, ENT, cardiology, urology, chest, gastroenterology, hip and joint replacement, gynaecology and obstetrics, dermatology, endocrinology, child specialist, cancer, dental care, general medicine, general surgery and kidney transplant. Various diagnostic tests including blood, urine tests, ECG, spirometry tests, mammography etc were conducted free of cost.
The Mega Health Checkup Camp witnessed huge participation of doctors, paramedics and patients. Renowned Cardiologist Dr HK Bali, Dr Atul Joshi, General and Laparoscopic Surgeon Surgical Oncology of Fortis Health Care, Doctors from PGI and other Health Institutions of both Government and Private sectors.
Other prominent persons who were present on the occasion included, Mr O.P. Dhankar, Agriculture Minister Haryana, Sh. Subhash Barala, State President, BJP, Haryana, Mr. Bikram Majithia, Former Minister, Punjab, Mr Sanjay Tandon, State President, BJP, Chandigarh, Prof. Jagat Ram, Director, PGIMER, Chandigarh, Professor Raj Kumar, Vice Chancellor, PU, Chandigarh, Professor Tankeshwar, Vice-Chancellor, Guru Jambheshwar University of Science and Technology (GJUST), Mr. Avinash Jaiswal, National General Secretary Organisation Rashtriya Sikh Sangat, Mr. Mandeep Brar DC Chandigarh and Commissioner Municipal Corporation Mr. K.K.Yadav, Mr. Vineet Joshi, Chairman Joshi Foundation and Mr. Saurabh Joshi, President, Joshi Foundation.