Quota for Government service doctors in DNB courses: Minister Apprises Parliament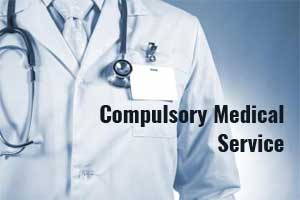 New Delhi: The issue of Quota for Government service doctors in DNB courses was recently raised in the parliament, when Rajya Sabha member sent written questions to the Minister of Health and Family Welfare about the stand of National Board of Examinations in this regard
Through a written reply, Minister of State for Health and Family Welfare, Shri Ashwani Kumar Choubey informed the Parliament that The National Board of Examinations (NBE) has informed that the allotment of DNB seats is done through a national level centralized merit-based counselling on pan India basis with provision for only constitutional reservation for SC/ST/OBC categories. There is no provision for quota for in-service candidates in the DNB programme since it is a national level centralized counselling.
Responding to another question whether the state of Karnataka has requested to provide seats to in-service candidates working in rural areas as well as the steps that the Ministry is going to take to give weightage for Government or rural service before deciding the eligibility for DNB courses before NEET and/ or quota for Government in-service doctors in DNB courses, the Minister replied as follows



Yes, NBE has received communications from the Government. of Karnataka requesting provision for weightage for service in public health institutions in rural areas in the qualifying examination and earmarking of 100% DNB seats, for in-service doctors for the DNB courses organized in Government hospitals in the State of Karnataka.




NBE has further informed that the Government of Karnataka has decided to accept the general candidates for DNB courses under a bond to serve in Government hospitals for 3 years after clearing their DNB courses which has been agreed to by NBE.



Medical Dialogues had recently reported that 7 district hospitals in remote areas of the state this year started their journey with NBE courses with as many as 51 DNB seats. These seats span across variety of PG courses including DNB in medicine, Gynaecology, Surgery, Orthopaedics, Ophthalmology being some specialisations. The doctors joining these courses also signed a bond for three year bond with the government to serve at the district hospitals at the state.
Read Also: Addressing specialists shortage- How DNB courses are helping Karnataka District Hospitals