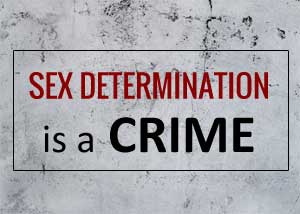 KOTA: A doctor and a tout were arrested in Rajasthan's Kota district for allegedly conducting sex-determination tests.
The PCPNDT Bureau of investigation (PBI) — a special team of the state Pre-Conception and Pre-Natal Diagnostic Techniques (PCPNDT) cell — arrested Dr Mukul Kokas, a DMRD and ultrasonography specialist; and a tout, Ameen Mohammed, last evening from a diagnostic centre ( Suvidha diagnostic and sonography centre) in Nayapura area here, said Rajiv Lochan, a member of the operation team.
Acting on a tip-off, a team, led by PBI inspector Sitaram, laid a trap around six days ago.
Ameen and another tout, Mahaveer, were contacted over the phone and they agreed to a sex-determination test for Rs 50,000, which included an abortion charge if the test confirmed a girl child, Lochan said.
The test was conducted yesterday by Kokas at the centre after the touts received the sum.
Kokas and Ameen were arrested, while Mahaveer managed to flee from the spot with Rs 35,000 as the PBI team could not identify him, the officer added.
The two would be produced before a court in Bundi district later today, Lochan said, adding that it is the 107th such decoy operation by the PBI.
The PCPNDT Act, 1994, was enacted to prevent female foeticide and confers wide powers to the appropriate authority to ensure that diagnostic techniques are not misused for sex selection.
Earlier this month, a 50-year-old woman, identified as Shanti Rani, was arrested for allegedly carrying out a sex-determination test in Kota.
0 comment(s) on Radiologist, tout arrested for sex determination in Rajasthan