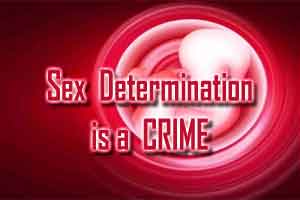 Jaipur: A doctor and a mediator were arrested for allegedly performing sex determination test by a special squad formed under Pre-Conception and Pre-Natal Diagnostic Techniques (PCPNDT) Act in a decoy operation conducted outside the state, police said.
Snehlata, a doctor and Seema Chaudhary, a woman mediator, were held by the team in the decoy operation in Mathura, Uttar Pradesh, Special secretary, medical and health department Naveen Jain said.
Acting on a tip-off that the mediator based in Alwar, Rajasthan, facilitated sex determination and took pregnant women to Mathura for the test, a decoy operation led by Additional SP (PCPNDT Cell) Raghuveer Singh was planned and the accused were nabbed.
An unregistered sonography machine and Rs 18,000 cash have also been seized from their possession.
The help of a pregnant woman was taken for this purpose for which she will be rewarded.
"The informer and the woman will be a given cash reward," Jain said.
0 comment(s) on Rajasthan: Doctor and mediator arrested for alleged sex determination