Rajasthan: Doctor, nurse arrested for carrying out sex determination test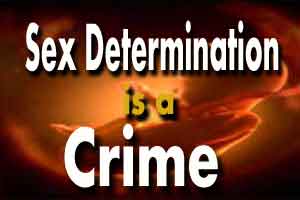 Jaipur: A doctor from Gujarat and an auxiliary nurse midwife (ANM) from Rajasthan have been arrested for their alleged involvement in sex determination test here, officials said.  The duo was caught for allegedly involvement sex determination on a decoy patient at a registered sonography center in Himmatnagar, Gujrat for a price of Rs 21,000.
The arrested have been identified as ANM Nirmala Kumari who was posted at a health centre in Udaipur and Dr Jitendra Kumar Shukla based in Gujarat.
This came after a joint operation conducted by the Rajasthan PNDT cell and Gujrat district administration. The rajasthan authorities (Udaipur) sent a decoy patient to Nurse Kumari. The nurse then agreed to take the patient to a centre in Himmatnagar, Gujrat for the purpose of Sex determination for a price of Rs 21000.
As soon as they reached Himmatnagar main bus stand and met Dr Jitendra Kumar Shukl of Devpujan Hospital, a team of Rajasthan PCPDNT cell, led by additional superintendent of police Raghuvir Singh, arrested them. The sonography machine has also been seized.
The accused, who were arrested during a raid by the Health Department , have been booked under the Pre-Conception and Pre-Natal Diagnostic Techniques (PCPNDT) Act, Special Secretary of the Medical and Health Department Naveen Jain confirmed.
He further pointed out that with the strict implementation of Pre-Conception and Pre-Natal Diagnostic Technique (PCPDNT) Act in Rajasthan, now agents, especially village-level health workers, were taking pregnant women to neighbouring states for sex determination tests.
This was the third successful inter-state sex determination racket busted by the Rajasthan PCPDNT cell in last three months reports HT. On May 20, a decoy operation led to arrests from Narnaul in Haryana, while another arrest was made from Agra in Uttar Pradesh on June 21. Total seven decoy operations were successfully conducted by the cell between April and July this year, including the three inter-state operations